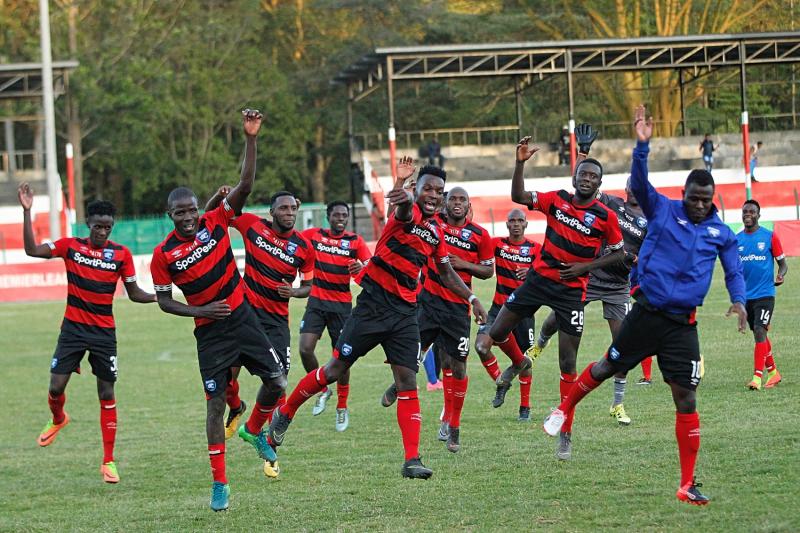 There is a growing sense of belief and optimism within AFC Leopards' den.
To the Leopards' family, they believe the 2019/2020 Kenyan Premier League season could be their year of glory.
Though Ingwe's current financial woes are well documented, the Kenyan giants seem to be slowly but surely turning themselves into genuine title contenders after round seven of action.
Leopards have had an impressive run so far, going six matches unbeaten since losing their season opener to Kakamega Homeboyz (1-0) at Bukhungu Stadium.
Sunday's 2-1 away victory over Sofapaka in Narok appears to have given Leopards' faithful a reason to feel good as they dream to end their 21-year title drought.
Casa Mbungo's men are currently level on points (14) with second-placed KCB, one behind rivals and league leaders Gor Mahia, who have two games in hand.
But with a fantastic chemistry among Leopards' players and an instant impact of some of their offseason signings led by red-hot forward John Makwatta, Ugandan goalkeeper Benjamin Onyan, and Burundian midfielder Tresor Ndikumana, the current outfit looks to have some semblance of the late 80s and early 90s' squads; scoring and defending resolutely.
With five goals from his last six outings, Mwakatta seems to be the man AFC will really bank on in their quest to reclaim the title they last won in 1998.
Even as he aims to win his second golden boot after claiming it in 2016 when he scored 15 goals while at Ulinzi Stars, Makwatta believes the current players are eager to write their own chapters in Ingwe's history books.
"It's a feel-good factor to have scored some crucial goals for my team. But I think as a striker, that's my job. The interesting thing with football is that, if you score, you will be praised, but if you don't, nobody will glorify you," Makwatta told Standard Sports.
"The club is having some tough times, but I think this is our year of glory. It doesn't matter the problems we are having, but once we step onto the pitch, it's all about passion."
"There is already that feeling of success in the team, but we will continue to work hard until we achieve our targets."
"Of course, I would be excited to win the golden boot again, but my target is to help the team get as many points as possible and eventually, win the title. It's not about personal glory but the team. We want to bring back smiles onto our fans' faces."
"I used to watch some of AFC Leopards matches, that's why it was a bit easy for me to settle down quickly after joining them."
Though midfielder Whyvonne Isuza singled out Makwatta and Ochan's performances, he is impressed with how the team's confidence is growing.
"Confidence is growing. The more we chalk up wins, the more we regain our confidence. Despite the challenges, it's possible this could be the year we've all been dreaming of turning negatives into positives," said Isuza.
"We are not focusing on the position but on our matches. The table is quite tight thus our current position can fool you."