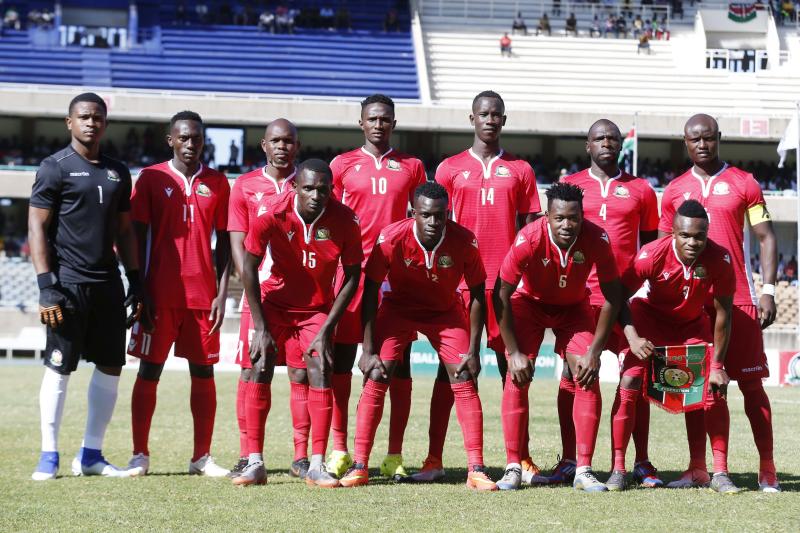 The national football team Harambee Stars have dropped a single place to number 108 in the latest FIFA rankings released today.
Stars drop in the FIFA rankings followed by their latest 1-0 loss to Mozambique in the last international break.
SEE ALSO: 7 reasons why Kipchoge's historic INEOS feat was not recognised as World Record
Harambee Stars will head into their African Cup of Nations qualifier against Egypt who is ranked 49th.
Despite a win over Kenya, Mozambique maintained its spot in the rankings at 112th position.
SEE ALSO: Menengai Oilers seek to keep Ominde
Belgium stayed at the top followed by France, Brazil, England and Uruguay in the top five slots.
Belgium supremacy has been impacted by their recent perfect form, including a 9-0 win over San Marino.
SEE ALSO: Spurs suffer 3-1 defeat at Sheff Utd, VAR in spotlight again
Last year FIFA World Cup finalist Croatia are seventh followed by Spain, Argentina, and Colombia.
Top-ten rivals Uruguay (5th, up 1), Croatia (7th, up 1), Argentina (9th, up 1) have edged closer to the summit, according to the FIFA website.
Senegal remained the top-ranked nation in Africa, with Tunisia, Nigeria, Algeria, and Morocco maintaining their places.
According to FIFA, jumps of ten or more places have also been made by a clutch of teams outside the top 50, namely Nicaragua (137th, up 11), South Sudan (162nd, up 11), Barbados (160th, up 10) and São Tomé and Príncipe (180th, up 10).
Harambee star's next match for the African Cup of Nations qualifier will be against Egypt scheduled for 15th November in Cairo.
Star's second game will be against Togo on 19th November at the Moi International Sports Center Kasarani.