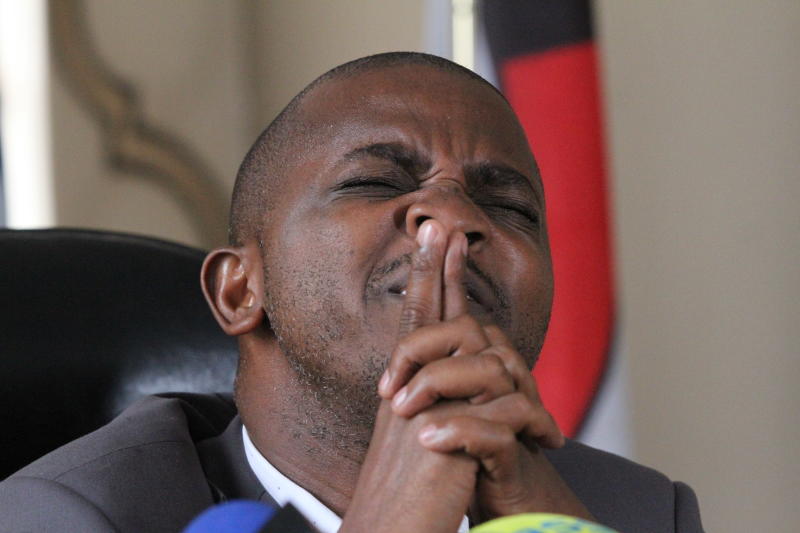 Football body caught between a rock and a hard place as it stands to lose millions after its insolvent supplier WTS Media Group Limited lists them as unsecured creditor.
Football Kenya Federation (FKF) is sweating over Sh125 million it paid WTS Media Group Limited to procure a Multi-Purpose Unit Outside Broadcasting van, moments before the British company was declared insolvent.
WTS Media Group Limited was put under administration on April 11 this year leaving the cash-strapped FKF stuck between a rock and hard place on how it will recover the money or get the precious OB van.
Martha Thompson and William Matthew Humphries Tait of BDO LLP have since been appointed the Joint Administrators of the Company.
Unlike other creditors of the beleaguered company, FKF is listed as an unsecured creditor meaning it will take a court process in England for the Kenyans to recover the money.
In the Statement of Truth signed by then WTS Media Group's active directors, Ofir Mor and Sue Mor, listing FKF as an unsecured creditor, it notes: "I believe that the facts stated in this Statement of Affairs are a full, true and complete Statement of Affairs of the Company as at 11 April 2019, the date that the Company entered Administration."
While the secured creditors stand a better chance of recovering what they are owed, FKF will have to settle for whatever can be salvaged from WTS Media Group's near-empty accounts.
Asked what their options are in view of the latest development, FKF CEO Barry Otieno yesterday declined to answer to the specifics only saying; "Standard has in the recent past published what we believe are defamatory statements targeting the FKF leadership in regard to the OB van issue."
He added: "We (FKF) have since sent a demand letter to the media house and will not be commenting further on the issue, until we get a response."
As things stand, FKF's redemption would be to wait for the Joint Administrators to breathe life into the Company for them to get a reasonable/full refund or initiate a court process in England, which could salvage as little as £19 (equivalent of Sh1,968.39) of the Sh125million paid.
Fifa had on October 10 said they were still waiting for a 'full report from FKF's lawyers on the non-delivery of the van.
When The Standard contacted Fifa yesterday, it was clear FKF were yet to furnish the world football body with a response. A Fifa spokesperson reiterated: "Fifa has been notified of the non-delivery of the FKF broadcast vans. In this respect, we are still awaiting to receive a full report from the FKF's lawyers on this matter."
FKF vehemently denies any underhand dealings and for the moment, there is nothing to suggest anything illegal.
FKF also maintains the project and the technical evaluation of the OB van was approved by Fifa.
In 2016, immediately Nick Mwendwa was elected president, FKF embarked on an ambitious project to buy an OB van for production of football content.
The Kenyan FA put together a proposal for an 8-camera OB van with technical specifications to match those demanded by the Confederation of African Football for it to be able to broadcast continental matches and save local clubs the cost of production in Caf assignments.
Football world governing body Fifa approved a mouth-watering Sh135million kitty for the project.
Initially, FKF were offered a SuperSport MPU van as purportedly owned by WTS Media Group. FKF did a test run with the OB van by producing matches in Uganda, Tanzania and a Caf Confederation match between Gor Mahia and Rayon Sport of Rwanda at Kasarani in August 19 last year.
Things, however, took a strange twist after FKF remitted Sh125million to WTS Media Group Limited account for the van, only for SuperSport (or owner) to refuse to release it.
Stunned, FKF headed to the company's registered address, 32 Bower Hill Industrial Estate, Epping CM16 7BN, London in England.
By FKF's account, they were offered another van. However, the van was a Left-Hand Drive. Nonetheless, they were promised it will be configured to a Right-Hand Drive by the time it was to be shipped to Kenya.
FKF were thunder struck to learn in April this year their supplier had gone under.
Efforts to get comments from Fifa Regional Development officer for Africa and Caribbeans, Veron Mosengo-Omba have been fruitless as he only referred The Standard to the Zurich-based Fifa.