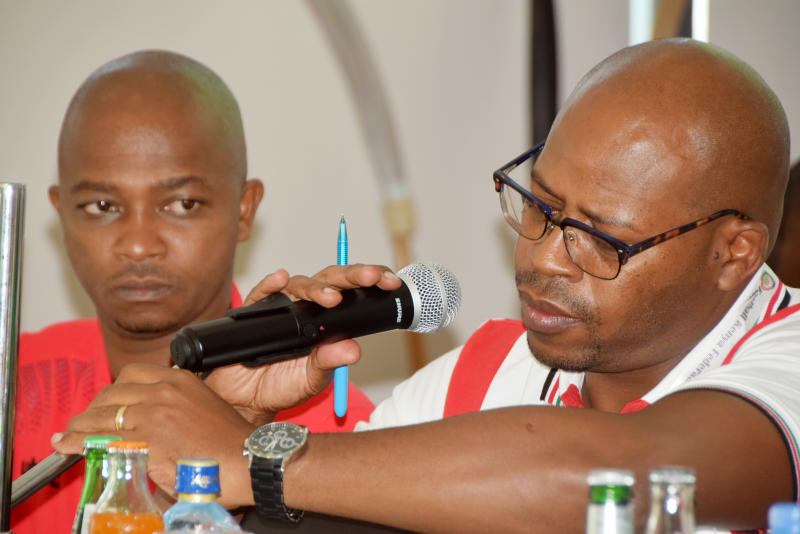 Robert Muthomi has stepped aside as Football Kenya Federation (FKF) Chief Executive Officer following a player transfer saga.
Muthomi has been accused by Sofapaka for being involved in an attempted transfer of striker John Avire.
SEE ALSO: Nyamweya: We smell a rat over FKF elections
His replacement will be named today even as former FKF President Sam Nyamweya called for an independent body to investigate the transfer saga saying there is more than meets the eye.
Embattled Muthomi, however, insists the decision to step aside was to allow for independent investigations into the matter.
SEE ALSO: KPL clubs to wait longer to know fate of league
"For my integrity and that of the office of the FKF General Secretary it is better to pave way for a thorough and credible process to be undertaken.
"I am also convinced that this is the best course of action both for public confidence on myself and the institution that is FKF.
SEE ALSO: Defiant KPL ready to resume league action
"My continued execution of the role of General Secretary while this process is ongoing may be seen as an attempt to influence the investigation process," he said.
He added: "I would like to reiterate that I have not resigned my position as General Secretary and CEO of FKF, and that I believe at the end of the investigation I shall be vindicated and cleared of these malicious accusations.
"I trust that the FKF President will move quickly to expedite the investigation process with a view to ensuring justice and fairness for all."
Former FKF President Nyamweya, said the allegations against Muthomi strikes at the heart of the association. "This matter is deeper than what has come out in public. It is a trust issue and therefore it cannot be left to FKF to investigate the matter that concerns senior management. It comes at a time we are also wondering what happened to the OB van which to date, even after FIFA released Sh134 million for its purchase, nobody at FKF has cared to tell the public what became of the project.
Muthomi's move comes two days after he said he will stay put as investigations go on.
He said last week there was no need for him to step aside as the disciplinary committee looking into the matter is independent.
But internal pressure over the last two days had made his continued stay untenable.
Top FKF officials have been putting pressure on Muthomi to step aside since Sofapaka made damning allegations against him over his involvement in the John Avire transfer saga.
FKF is said to be keen to have independent investigations and Muthomi's continued stay was viewed as a stumbling block.
Muthomi found himself in trouble after a letter he wrote to the Egyptian embassy to allow Avire to get a Visa as a fan became public. Sofapaka accused the FKF official of attempting to sell the player behind their backs.