Uhuru leads Kenyans in mourning football icon Joe Kadenge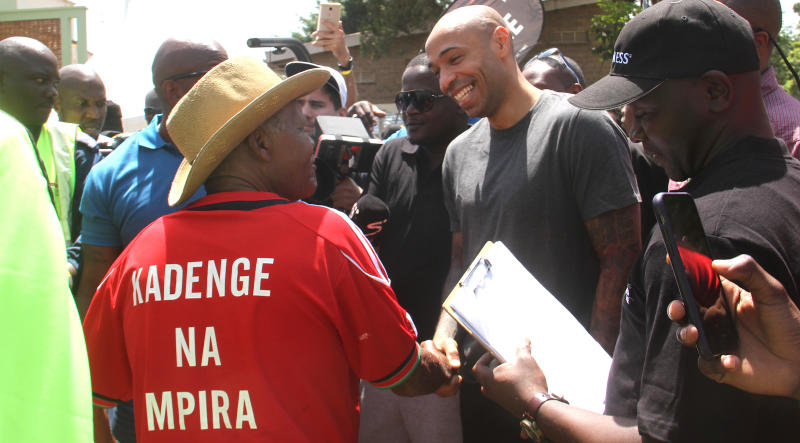 President Uhuru Kenyatta led Kenyans in mourning Kenyan legend Joe Kadenge, 84, who passed on yesterday morning at a Nairobi hospital.
Uhuru described Kadenge as a man who used his talent to propel Kenyan football.
"Kadenge represented the best of our football. He was the icon of the sport in our country. It is sad that the hand of death has robbed us of a man who gave his all for the glory of our country," the President said.
He added:" Joe was my friend. He had great words of wisdom for me when First Lady Margaret and I visited him," the President recalled.
"He had great love for his country and held big dreams for Kenyan football. We will surely miss him."
Former Prime Minister Raila Odinga also mourned Kadenge describing him as the greatest footballer Kenya has ever had.
He said: "We have today lost one of the greatest talents to ever grace a football pitch in our national uniform.
"Joe Kadenge was a true ambassador for the country and Kenyan football. May he rest in eternal bliss. May his spirit inspire more young people to pursue the game."
Football Kenya Federation (FKF) Pesident Nick Mwendwa said he was saddened with the death of Kadenge, whom he described as a man who was dedicated to the sport.
"His contribution and dedication to the game will forever be remembered and cherished within and across our borders.
"On my own behalf and that of the entire Kenya football fraternity, I wish to send my heartfelt condolences to the family and friends of Kadenge.
"Our thoughts and prayers are with you at these trying times, may you find solace in the memories," he said.
Kadenge's former club AFC Leopards on their Twitter handle wished his family peace and comfort at this time of mourning.
Others who mourned the legend include former international Gabriel Olang and former FKF Nairobi branch chairman Jacob Odundo.
Former FKF chairman Sam Nyamweya also sent his condolences.
Kadenge has been sick for the last five years. He suffered a stroke three years ago that worsened his health condition.
The government helped him get medical care.
DAILT TRIVIA ANSWER: Riyad Mahrez