AFCON: What went wrong with Harambee Stars in Egypt?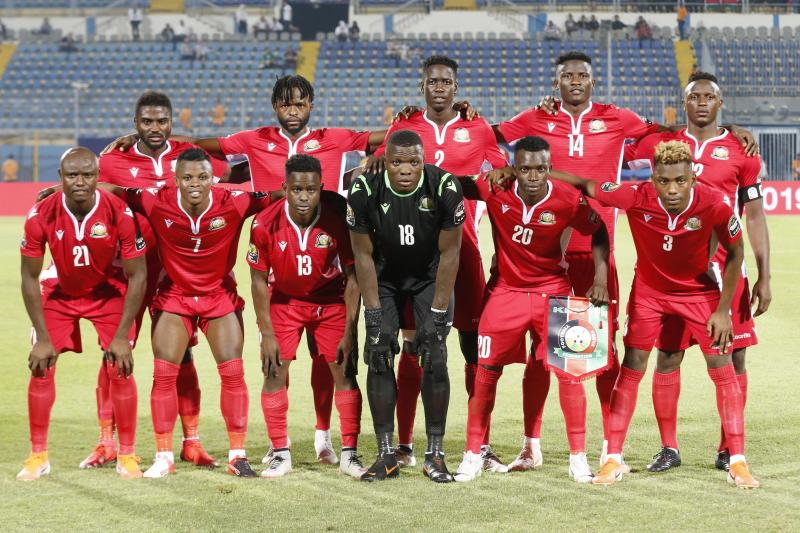 Excitement enveloped Kenya's national football team Harambee Stars after they qualified for this year's Africa Cup of Nations in Egypt.
But after 270 minutes of high-octane football, the results and overall performance proved that, once again, the national team was just not good enough.
It is said that the great always cast a shadow even in their absence, but given how Stars performed in Cairo, it surely left great emptiness that will take a while to fill.
It was a case of broken promises, shattered dreams to some and utter disappointment to others. This was not meant to happen, but it surely did.
Harambee Stars were meant to go there and make a mark in their long-overdue Afcon sojourn, but in the end, tears, disenchantment and bewilderment was what was left of this beloved team of ours.
When the side defeated Ethiopia 3-0 last year to bag the coveted Afcon ticket, there was a lot of hope that they would make it to the knockout stages, at least.
After the pooling was done and Stars landed Algeria, Senegal and Tanzania in Group C, optimism built to higher levels; draw against Algeria in the first group game, defeat Tanzania and be sure of safe passage to the last 16.
It never went according to plan. Kenya lost 2-0 to Algeria, defeated Tanzania 3-2, before soaking 3-0 against Senegal in their last group match.
Granted, the national team finished with three points, but they were not enough to guarantee them a slot to play with the crème de la crème of the tournament.
After returning to the continental tourney for the first time in 15 years, more was expected of this side; so much more.
But with their elimination, frustration showed as the side packed their bags for their next flight home.
So, what went wrong with this side, really?
Harambee Stars suffered a blow through the pre-Afcon injury and thereafter unavailability of stoic defender Brian Mandela and the dependable Joash Onyango.
Some would argue that the loss of the Maritzburg United centre back should not have made much of a difference, but in truth, it did.
This side had conceded only once in their qualifiers; well, forget the Sierra Leone results.
With this kind of a backline, many a fan expected Stars to put up a decent fight in Cairo. We all know how it ended, don't we? The Sebastien Migne's boys lay down and collapsed like a house of cards.
Their make-shift defence of Musa Mohamed, David 'Calabar' Owino, Philemon Otieno, Aboud Omar and Joseph Okumu, was exploited with almost every move that came their way.
This no doubt left goalkeeper Patrick Matasi exposed. These guys were struggling to patch up; yes, it was real struggle.
Then came the issue of shipping in dozens of players, who ended up warming the already hot Cairo benches.
It was clear striker Michael Olunga was overwhelmed and required a partner, who never came. He was left alone, to hunt like a lone ranger.
Masoud Juma never got the chance to test Afcon heat, he did not merit anyway. Why Kenyan Premier League's top striker Allan Wanga failed to make the team, despite having scored 17 goals in the last season, remains a mystery.
As is with numerous tournaments, teams have camps to bond, build some chemistry and conjure up some winning formulae. In most cases, squads pick place that have similar weather conditions as the hosts of the tournament.
In Harambee Stars' case, they chose to have theirs in France. Granted, this would have given the team more training sessions, but to the detriment of not acclimatising as they would have wished. Paris is in its lower 20s, while Cairo was baking, at times hitting a high of 41c.
Then came the issue of inexperience. The naivety of this side was so obvious, it would not have gone unnoticed.
Other than captain Victor Wanyama, who anyway had a below-par performance, no other player would boast having played against top players.
Bar Eric Ouma, who gave a splendid display, the rest of the squad was akin to a bunch of pedestrians. They never played as a unit; never attacked in a pack and hardly threatened their opponents.
But according to Matasi, they are to blame for their not-so-impressive show.
Matasi, who turns out for Ethiopian club St. George's, said careless mistakes cost them.
"We would have made it to at least the second round but we made some mistakes and got punished.
"Against Senegal, we just needed a draw and would have been assured of at least a second place in the group," he said.
"We are out because we committed a number of individual and team mistakes.
"Benin, on the other hand, managed to pick a draw against Cameroon to lock us out," added Matasi.
According to the custodian, Kenya still has a long way to go.
"We have learnt our lessons and now know what to do differently. It takes a lot of time and work to be at the same level as Algeria and Senegal."
"All is not lost. The good working relationship between the government and the federation will help us do better in the next edition of the tournament."
Former Gor Mahia defender Musa Mohammed was forced to apologise for his performance against Senegal.
"It was my mistake. I did a wrong calculation and Sadio Mane beat me to the ball. I want to ask Kenyans to forgive me, because it's part of the game and there is nothing I could have done after I lost possession," said Mohamed. "Mane is a very fast winger."
Migne, in his defence insisted that being the first time for most of the players; they were bound to make some mistakes.
"Senegal have qualified for all Africa Cup of Nations finals and last year, they were in the World Cup. For most of our players, it was their first time," he said.