AFCON: Why Harambee Stars are not walking alone in Egypt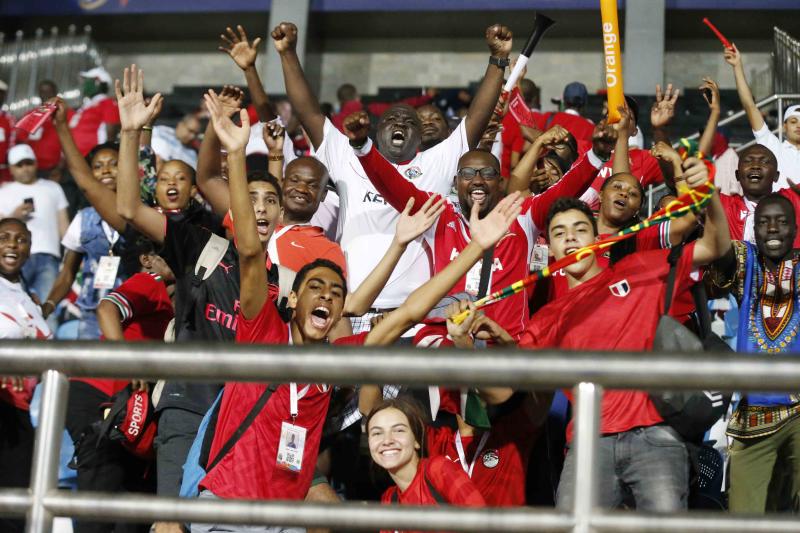 Although Kenya's national football team Harambee Stars have been blowing hot and cold in this year's Africa Cup of Nations, their fans have not.
Kenya lost 2-0 to Algeria in their opening game, but restored pride that had vanished with a memorable 3-2 victory over Tanzania in their second match in Group C.
While the national team has been doing duty on the field, their fans have been calling the shots on the stands, making the most out of it.
In 2004, the last time Kenya played in the Africa Cup of Nations, Kenyan fans, if any, could have been pinpointed from the stands. They were that few.
But this year, things are different. With Harambee Stars playing in their first Afcon tournament in 15 years, hundreds of Kenyan fans have descended on the land of Pharaoh and honestly, they are doing a good job.
"We said we needed to support our team. I had not saved for this trip as I was to travel with some Football Kenya Federation officials. I had vowed to watch the Harambee Stars matches live and despite the heat and expensive life here, I am enjoying myself," said a Kenyan fan, Alex Ole Musikeri.
Planning for the trip for others began after Kenya defeated Ethiopia 3-0 at Kasarani on October 14 last year, which ensured a return to the continental tournament.
A bunch of them promised each other to join the national team in its voyage back to continental football.
Some won tickets through raffles sponsored by different companies. Many other others were on their own and their gods.
But after Kenya's victory against Tanzania on Thursday night, these fans were no longer walking alone. Their videos and pictures while emerging from the streets of Cairo told of a different story.
The fervor was adorable. You could tell how expectant they had been, yearning for good results.
"We were very happy with that win. We now pray for a point against Senegal. It will be a do-or-die match," said Gor Mahia official Judith Nyangi.
More video clips showed just how infectious Kenyans can be, at times. The hosts, temporarily, prized them, tagging along as they hugged, smiled and chanted, in different languages of course.