Senegal are also human, says Michael Olunga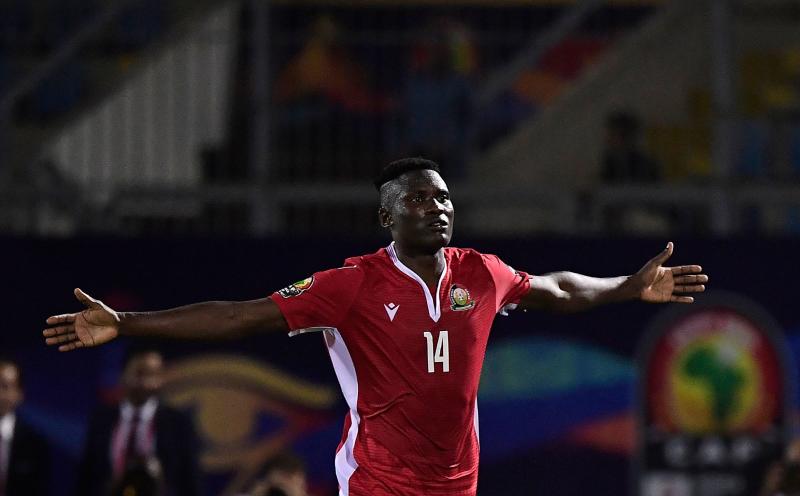 After a wobbly start in this year's Africa Cup of Nations, Harambee Stars striker Michael Olunga has urged his comrades to wipe the frowns off their faces.
Kenya plays Senegal tomorrow in their last Group C match aiming for a famous result against their fancied opponents.
Should it go their way, then it would guarantee Stars a place into the knockout stages; a historic moment that would be.
The last time Kenya found themselves in this position, entering a last Afcon group match with a chance to proceed to the knockouts, was in their dreams. It had never happened before. But it's happening. It's real.
Yes, Kenya has a chance to make it into the coveted stages of the Africa Cup of Nations.
"Senegal is a team like any other. They are human beings and are bound to make mistakes. If we play like we did against Tanzania, then I trust we will get the three points and advance to the knockouts," Olunga said in an interview after their 3-2 victory over Tanzania on Thursday night.
Even after all the stories of the past week that dwelt on Stars' ability, or lack of it, at this level, you hardly get this kinds of situations every day.
There is surely a compelling query about who, in truth, will stop the Senegalese. That should be Kenya's homework until that first and last whistle. Prevent Sadio Mane and company from playing free-flowing football.
Stave off their supplies from the flanks. Kick, drag, and cling on any Senegalese shirt if need be…just do anything to stop their otherwise lethal attack.
Exterminate their dominance and it shall be well.
Not to assume Senegal's abilities though. That would be detrimental. It should remind Harambee Stars why, in football, it is dangerous to assume too much. Their 2-0 loss to Algeria is still fresh.
Another escape route for Stars would be praying for friendlier results from other groups.
First, Kenyans will beg for a draw in tonight's Group A match between Zimbabwe, who have one point, and a winless DR Congo side.
Secondly, another draw between Burundi (one point) and Guinea, who have not won a match in two games, will, without doubt, see Harambee Stars through as one of the four best losers.
This being a 24-nation tournament up from the traditional 16, top two teams from each of the six groups will automatically qualify for the knockout stages, while four third-placed teams will also make it to the last 16.
The third-placed teams will be decided by their points. And if there is still a tie, focus will shift to the goal difference, goals scored, disciplinary points and, if need be, drawing lots.
These 24 hours are essential for Harambee Stars. It may possibly feel as if they are holding onto a slimy fish, but head coach Sebastian Migne wants his charges not to lose their grip.
He, however, cautioned against overconfidence.
"We are coming up against a top side in Africa and it will not be easy.
"So far, we have done our best, but we seek more. Remember, we have nothing to lose," said Migne.