Harambee Stars bask in glory of seeing off Tanzania in AFCON clash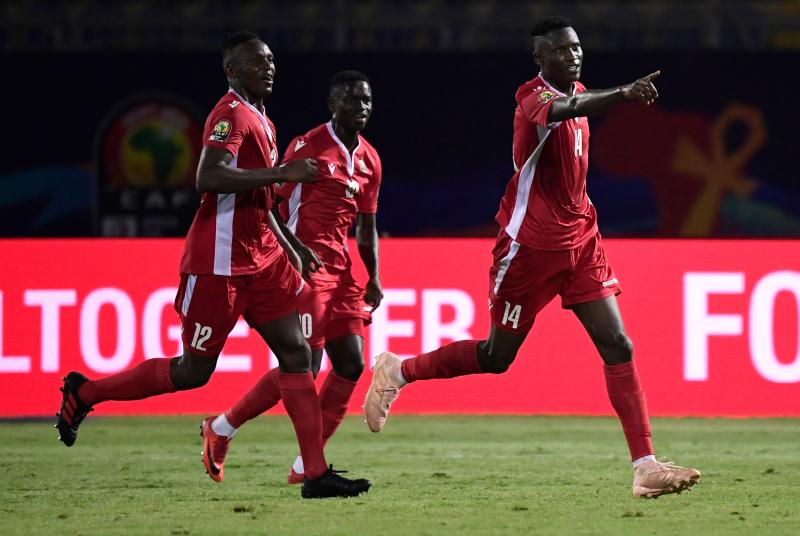 At the end of this breathtaking and sometimes nerve wreaking performance by Harambee Stars, Kenya's coach Sebastian Migne punched the air in delight.
Players linked arms at the centre field as they said a prayer for job well-done. They had just completed a historic victory at the Nations Cup, defeating Tanzania 3-2; their first meaningful win ever.
Kenya's first win in Africa Cup of Nations came on February 2, 2004 when Kenya beat Burkina Faso 3-0 in a dead-rubber tie in Tunisia.
But Thursday night's win was significant as it was sweet and well-earned. One had the sensation this was the instant Migne had been aiming to achieve since he joined Stars' bench last May.
On this night, after several failed attempts, Harambee Stars showed character, togetherness and hardly lacked in passion when going forward.
Every ingredient for a splendid match was there for all to behold. Every last bit of what they wanted to accomplish.
Harambee Stars now have something to play for. They will have another chance to enter history books, only that this time, they will line-up against a more experienced and very talented Senegal team.
It could be a perfect ending. It should be a perfect ending. Playing at this level is not for your typical or unexciting play and Migne had instructed his troops to battle to the end like true soldiers.
That explains why at the end, he, as were many Kenyans in the 30 June Stadium, seemed lost in the moment.
And one man, Michael Olunga, led in that Kenyan orchestra. Sometimes it feels like there are no more adjectives left to describe Olunga's performance against Tanzania. Sincerely, what else can be said about this striker with the number 14 jersey?
His feet seemed to be full of magic. Whatever this young man kicked, was marvelous. His runs, mostly, were well calculated and with a pace envied by many.
At times it was evident that Stars' plan seemed to orbit around getting the balls to Olunga, praying that he weaves past his markers. And Olunga, being Olunga, constantly lived up to his billing, giving defenders Gadiel Kamagi, Patson Mwantika and Kevin Yondani torrid moments with his blistering pace.
"They scored in the early minutes of the game but we dominated the entire second half and made sure they cracked," Olunga, who was named Man of the Match, said. "I want to thank my teammates for giving their best shot. We really needed this win. I'm happy with my performance as well."
Speaking of his performance, he scored twice, but it his first goal that is still fresh in the minds of many.
A free kick into the area was pushed away by Tanzanian goalkeeper Aishi Manula, the ball bounced off defender Erasto Nyoni and onto the airspace of Olunga. It could have gone anywhere. It could have whizzed over the bar, or bounced off anyone's body frame.
It could have even glided safely into Manula's already open arms, or go out for a goal kick. It did not. Olunga connected with an acrobatic kick that would have otherwise seen Cristiano Ronaldo nod to show appreciation.