Kenyan jokes tear social media apart after Harambee Stars comical loss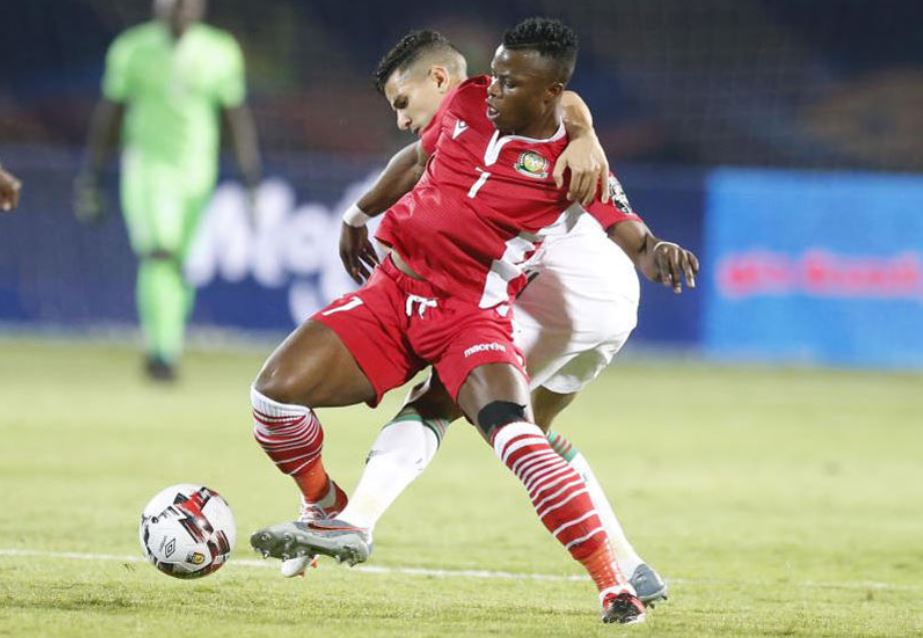 Kenyans took to social media in anger and ridicule following Harambee Stars' 2-0 loss to Algeria in their first match of the Africa Cup of Nations at the 30 June Stadium, Egypt.
The Desert Foxes started the game hot on Kenya's heels, with Manchester City star Riyad Mahrez and Galatasaray forward Sofiane Fegouli forcing early bookings for Stars' pair Aboud Omar and Philemon Otieno.
Baghdad Bounedjah put the Desert Foxes in control of the tie minutes after the half-hour mark, sending Patrick Matasi the wrong way from the penalty spot after Dennis Odhiambo's foul on Youcef Atal.
Kenya's Ayub Timbe's efforts to run at Algeria's defence were fruitless, with Mahrez's and Atal's run's down the left restricting him to his own half for better parts of the game.
Manchester City attacker Riyad Mahrez doubled the Foxes' lead 10 minutes later after catching the Stars' defence sleeping to slotting a deflected shot past Patrick Matasi after Ismael Bennacer's cut-back.
The second half started with the Algerians seemingly taking a gear off their stride, tossing the ball around the pitch with Kenya looking to catch them on the break.
Mehdi Abeid and FC Porto star Yacine Brahimi came in as substitutes for the industrious Adlene Guedioura and Youcef Belaili respectively 20 minutes to full time, with Kenya taking off IF Brommapojkarna's Eric Johanna Omondi for Cercle Brugge's Johanna Omollo.
Kenya looked to pounce of Algeria's recklessness late in the game with Johanna Omondi almost handing the boys a consolation.
With three minutes of added time, Las Palmas midfielder Ismael Gonzalez came in to replace Odhiambo.
The win leaves Algeria on top of Group C with 3 points, level on points with Senegal who beat Tanzania 2-0 in an earlier fixture.
The Lions of Teranga will face the Desert Foxes in the group's next encounter as Harambee Stars take on East African neighbours Tanzania in three days.
On social media, Kenyans were quick to criticize Harambee Stars style of play, most mocking the country's economic situation while comparing it to the results of the game.
Here are some of the hilarious comments captured by Game Yetu of Facebook:
Jelome Danford Kasembe Thank God am an Arsenal fan,, I can handle this
Karama Muhammad Jagga It's time for Kenya and Tanzania to think about renaming their national teams. Hizi "stars" ndio zinazotuponza zimekuwa bad luck kwetu
Joshua Ochieng Can someone round up those panicky fools for the next available flight back home to come dance their traditional dances away from serious people
Ednah Kananu Whoever took Kenyans to Afcon will never see Heaven
Wycliffe Imbuga We can only win if we appoint Chebukati as our referee in our remaining matches
MC Evans Kwani pharaoh hajawahi kufa? Kwa nini atutese hivi kama wanaisraeli #idemolishthosepowers
Maestro Mwas Takashi Waisraeli waliteswa huko Misri. Sisi ni akina nani tusiteswe huko??
Kim Wei Ben Jami Haha..the guys looked disoriented! Mimi hata sijasikia uchungu kama ile nitasikia tukikutana na senegal..mungu tulikukosea wapi?
Dean Sidney Alexander Jana ndio ile siku kale ka team kameenda kuspend taxpayers money majuu katachapwa kaa burukenge
Trebor Abmurak Win what.?.I knew this was wastage of fuel,time and money..wangecheza hapa na Tanzania for 3rd and 4th positions and tuendelee kukopa na kulipa madeni which is our speciality.
Dave Wathika
hawa wako na wazungu na hatuna
Patricia Ougo
Hatuna nguvu...hatuna uwezo
Gideon Kenny Phetinus
Warudi Kenya waone pesa mpya.
Bolton Milton Kips
let's stick to corruption and athletics. I now believe in Bad Omen
Mohamed A. Janagale
I don't know what Kenya and Tanzania were thinking going Egypt
Denis Ouko Ntabo
Uzuri Hata hawana pesa mpya.mcheeeew
Jack Mzee
Msiongee vibaya ju Hata ndugu zetu tanzania walilimwa. Mandugu ni kufaana Na kufanana
Mbaraq Mathias Bari
Me naona team iuzwe tugawiwe hela zetu sisi bana inachosha hii