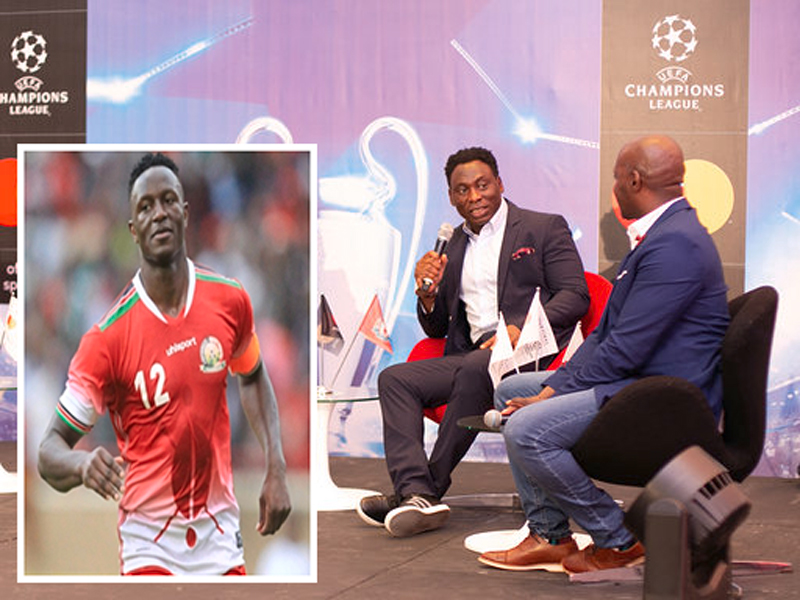 Nigerian football legend Daniel 'the bull' Amokachi has sent an encouraging message to Harambee Stars skipper Victor Wanyama ahead of the 2019 AFCON tournament.
The former Everton playmaker who was in the country for the live screening of the Champions League final between Liverpool and Tottenham Hotspur that was hosted by Mastercard has said that Harambee Stars might go far if they put in hard work and effort during the tournament.
SEE ALSO: Happy Birthday, Victor Wanyama! – Harambee Stars captain turns 29
Speaking to journalists, Amokachi said that he had confidence that Wanyama would lead the team to great heights during the tournament.
"I watched the Harambee Stars game against Ghana. I think that was their best game of the qualifiers, it was a solid and tactical game and I think they have young players who really want to go. A player like Wanyama who will be leading them should guide them to achieve what many expect from them." said Amokachi.
SEE ALSO: Victor Wanyama back in action as MLS returns
When asked about African players in the Champions League final, the legend said that he was pleased to see players like Origi, Salah and Mane enjoy a good season.
"If you are a Premier League fan, it feels proud to see two English sides in the UCL final. For players like Salah, Mane and Origi, it was a well-deserved season for them." he said.
SEE ALSO: Wanyama back to training
Asked about his career, Amokachi showed no regrets as he expressed his satisfaction with his footballing achievements.
"I appreciate the 10 years I professional played football. I have no regrets whatsoever, Origi is doing his thing, Mane and Salah as well thus we as Africans have to support them and appreciate what they are doing." he added.
On African football, he admitted that there is a big problem and insisted on new generation coaching in the continent.
"We have a lot of talent in Africa, but our biggest problem is administration and the selection of coaches. I think we need to allow new generation ideas to take over because it is something being done globally. As you can now see, most coaches are between the ages of 25 to 45," said Amokachi.