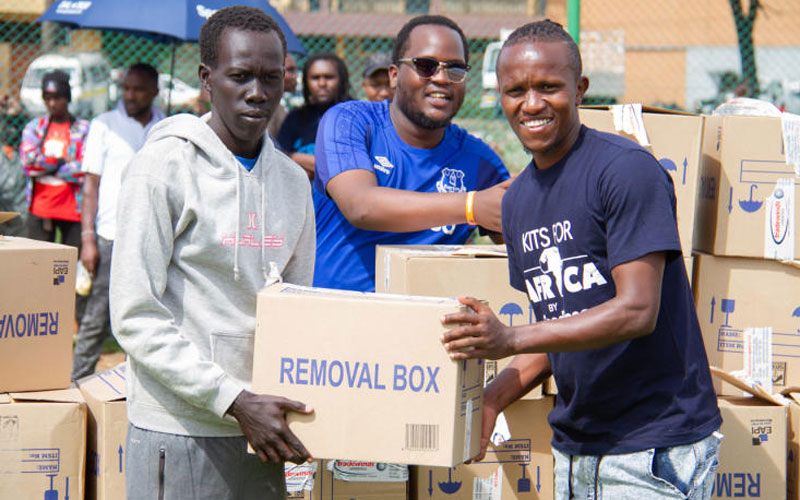 Gor Mahia midfielder Francis Kahata is known for his football skills and was at it again during the derby against AFC Leopards on Sunday.
However, what may often escape many of Kahata's supporters is his humble background, growing up in Ruiru under the care of his grandmother.
His mother, then, worked with Kenya Railways' Mombasa station but could not live with him because her low pay. She had to leave the talented boy to grow up in Ruiru slums with his grandmother. He would hone his football skills at the then dusty Ruiru Stadium (now laid with artificial turf) only a few metres away from his shanty dwelling.
Kahata, now a star of Kenyan football and selected in Kenya's provisional squad for the AFCON, has not forgotten where he came from.
On Thursday, before starring in Gor Mahia's 3-1 thrashing of AFC Leopards, Kahata distributed uniforms from Kits for Africa to 30 teams from Ruiru, 20 from Thika and 10 from Dandora.
The presentation took place at the Ruiru stadium on Thursday, the kits donated by SportPesa's partner clubs in Europe to his home base.
"I appreciate Kits for Africa administrators for sharing the donations in Ruiru. I remember playing with no boots and sometime bare-chested as I was growing up here. This is a good way to motivate the young talents and I hope they will work hard in return," said Kahata.
The initiative, launched three years ago, encourages football players and fans to donate their old kit to communities across Africa.
"Football in the neighborhood is faced by a lot of challenges. Some players give up mainly because they lack proper gear and opt to do other things instead," added Posta Rangers player Simon Mbugua, who also grew up in the same neighbourhood as Kahata.