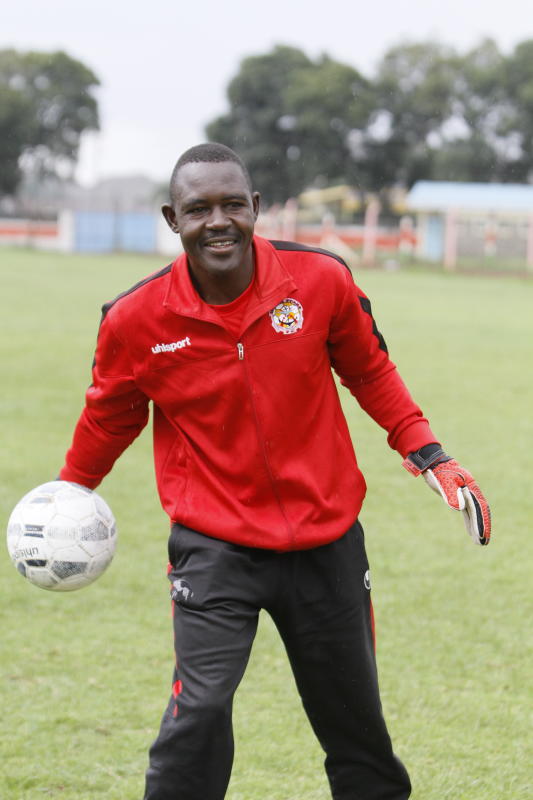 Francis Onyiso has two distinct personalities. Outside the field, the former Harambee Stars goalkeeper is awfully shy. He is ill at ease when cameras click on his face, and nervously shuffles his feet when talking. His words are short sentences delivered with long pauses and occasional sighs.
"I am a soldier. We think through everything we say. I am not used to talking about myself," he says.
SEE ALSO: Dortmund 'expect Man United to make Sh14 billion transfer bid' for Sancho
On the pitch, Onyiso, or "Onyi" as he is fondly known by his teammates at Ulinzi Stars where he is a trainer, morphs into an authoritarian. He yells, his veins popping, and his words become barked commands. At 46, he still has a youthful spring on his feet.
"I train to win. I push people to give me their best," he says.
SEE ALSO: Crystal Palace tried to sign Mason Greenwood last summer
He says even though Ulinzi Stars is made up of members of the military across different ranks, he always reminds them that when it comes to the game, the ranks must fall. Titles must be put aside and passion and desire to win take over.
He believes toughness begets good results. He is proud to be in the military, a career famed for battle hardened nerves of steel. But sometime in 2014, through a letter on a national newspaper, Onyiso showed that soldiers too have a soft side. A certain vulnerability that one would think has no place in a military camp.
SEE ALSO: NBA adds antibody testing to protocols
Jackton Odhiambo, Ulinzi goalkeeper, says he has grown under Onyiso's tutelage, and the only thing he wished he would do is embrace technology and use social media more to grow his brand. Onyiso shakes his head and smiles.
"These young people. In our day, all you needed was play well. No social media, just you, talent and supporters," he says. He says young players today are stuck in the vanity of fame.
It has been 26 years since Onyiso got into professional football. When he joined the armed forces, he was barely 20. His youth and passion for the game made him a goalkeeper for Ulinzi Stars where he honed his skills before he was discovered by the late German tactician Reinhardt Fabisch in 1996.
Magic hands
"I was being called on and off to the national team, but when Fabisch came, he sealed everything," he says.
He became Harambee Stars goalkeeper, representing Kenya in several international games. Despite his short stature compared to other goalkeepers, he held spectators at the palm of his hands. His eyes on the ball, jogging in between the goal posts, hands stretching to grab the ball, ducking and swerving to save an almost goal. Supporters burst into song, immortalising his name as one of the best goalkeepers Kenya has ever had. In 2004, they qualified for Africa Cup of Nations (Afcon) and in the same year they brought home the Cecafa win after 12 years of losses.
"Oh! We had fun in our time. Football was in our blood. We gave it our all," he says, a playful spark creeping into his eyes.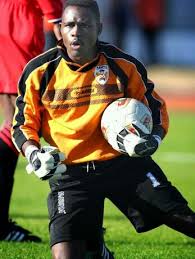 He equates football to being a soldier. He says it needs discipline, tact and consistency.
His speed, ability to somehow get into the minds of opponents and block their attempts to score endeared him to Fabisch, and it is under the mantle of that friendship that he rose and became the coach's favourite. Some players who worked with him say Fabisch openly favoured Onyiso and he got away with a lot of things.
Their personalities clashed, with Fabisch being a stickler for exactitude and Onyiso having the cheekiness that youth afforded him at the time. His friends say he was the darling of the team.
Onyiso says while there could have been signs that Fabish liked him, it had nothing to do with favouritism.
"A coach knows the players and their strengths. I worked hard, always trained. He had no reason not to like me," he says. When he retired from active football and his name started fading, he made an unprecedented comeback. On national newspaper, he published an apology to his wife.
"I, Francis Onyiso, take this opportunity to apologise to my beloved wife Janet Aoko Owino for the pain I have caused her and the family. I ask for forgiveness and promise never to repeat again," read the advert.
He refuses to delve into details of what he did that pushed him to make the open apology. He however says there comes a time in a man's life when everything else stops to matter and, in pursuit of the elusive peace in marriage, he has to do what he can to restore order.
"Publishing that apology was one of the most courageous things I have ever had to do. People call me a coward, but they do not know the courage it takes for a man to put everything down and make such a move," he says.
Things were thick at home. He had wronged her and she was not talking to him. He pondered over what else he could do to make her know he is sorry, and a thought came to his mind. He needed to make a public apology to erase doubt that he was remorseful.
Huge egos
He had thought through every word and written it on a piece of paper. When he walked to the commercial team of the newspaper to present his advert, they asked if he was sure he wanted to go through with it.
"My mind was made up, and no amount of persuasion would make me change my mind," he says.
He never said a word, not even to his wife, that he had placed an apology in the paper. The next day, his phone rang incessantly. Most callers were men, guided by egos, who felt Onyiso had betrayed them.
"You do not do such a thing. There are silent ways of apologising. He is a sergeant for heaven's sake. What a wimp," Onesmus Mutwiri wrote on his Facebook page. Onyiso says being a man is knowing how to choose battles.
"The apology did what it was intended to do. It softened her up," he says.
His focus is now on Ulinzi Stars. When he is not training, Onyiso enjoys listening to slow beat Lingala music over searing meat and his favourite Tusker beer served cold.