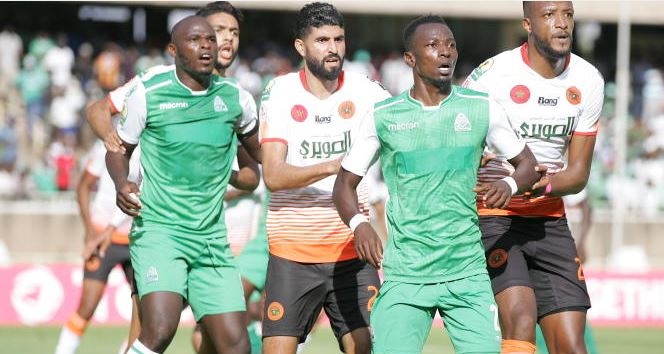 It was the end of the road for Gor Mahia after they were thrashed 5-1 by Moroccan side RS Berkane as they bowed out of the Caf Confederations Cup on Sunday night.
Gor Mahia, who had lost the first leg 2-0 in Nairobi thus bow out on 7-1 goal aggregate, the highest goals the team has conceded in continental football since they lost 5-0 to Tunisian giants Esperance in 2014.
SEE ALSO: Shikanda confident AFC Leopards ready to win titles
The huge score was, however, not surprising given the shambolic travel arrangements the team was subjected to on their way to Morocco.
First leg defeat
SEE ALSO: Gor Mahia, AFC Leopards land Sh285m Betsafe deal
Truth, however, is that Gor Mahia did not have a realistic chance of overturning the 2-0 defeat they suffered in the first leg at home, a result that was also contributed to by poor preparations as the team did not train adequately owing to a go-slow by the players.
However, the utter disorganisation reached its peak last week when first the club failed to travel on Thursday as planned. The team went to the airport only to be turned back as no arrangements had been made for their travel.
SEE ALSO: Polack thinks it is realistically 'impossible' to restart KPL
This pushed them to try and get seats on overbooked airlines on Friday and it was not possible for the team to travel together as some had to make stop-overs in either Dubai, Paris or Qatar.
The first batch of players made it to the match venue eight hours before kick-off and were followed by the second one, which arrived two hours before kick-off having endured a 600km journey from Casablanca to Berkane in the North of Morocco.
By the time the team got onto the pitch, they were already beaten and it didn't take their opponents long to get ahead with Kodjo Fo Doh netting the opener with the fatigued Gor Mahia backline unable to stop him.
Gor pulled one back
Lawrence Juma pulled one back for Gor Mahia and they looked like they would get something but that is all they could do as Laba Mohammed Aziz and Badr el Helali added a goal each to make it 3-1.
The hosts extended their rout with goals from Issoufou Dayo and Youssef Essaiydy and with it doused any hopes of a come-back.
Aside from the huge score-line, Gor Mahia still made history again by making it to the quarter-finals of the tournament as they become the only Kenyan club to achieve such a feat.
Last year, they did it by making it to the group stages of the tournament.
Clearly, with better preparations, they could have done better.