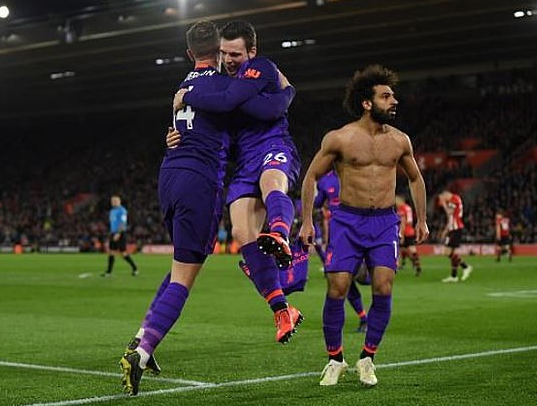 Netizens found it funny when Liverpool hotshot Mohamed Salah produced one of the hottest dummies to teammates Jordan Henderson and Andy Robertson during his goal celebration against Southampton at the St. Mary's Stadium in UK, England on Friday night April 5.
The Egyptian forward netted to put the Reds back in front after they went down early in the game, ripping his shirt and sprinting in celebration with his two teammates hot on his heels.
SEE ALSO: Silva shines as Man City thrash Newcastle 5-0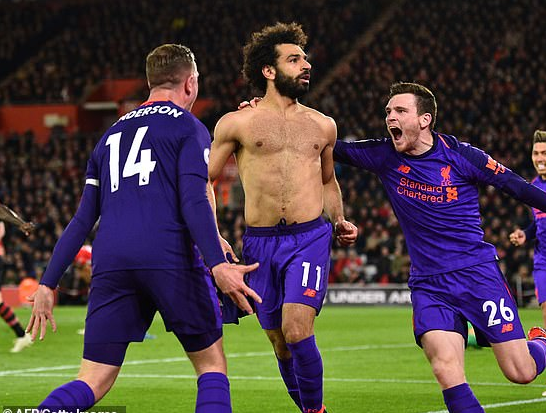 Salah then ducked instantly as he had another celebration idea in mind. He turned to the direction of the away fans and roared while his teammates were reduced to hugging each other instead of the goal scorer.
The strike broke Sala's nine-game drought which made him want to celebrate it better than just hugging his teammates.
SEE ALSO: Man City's Guardiola to discuss future with Stones when season ends
SEE ALSO: Man City loss to Southampton most-watched Premier League game ever
Despite the missed hug, Henderson also had his moment when he netted the third goal to seal Liverpool's victory.
Klopp's men now sit on top of the table above Manchester City who play Brighton this weekend in an FA Cup semi-final match.
Salah and co welcome Chelsea next at the Kop in a match that is sandwiched in their Champions League quarter-final fixtures against FC Porto.
Here are some of the netizens' reactions to the hilarious moment as seen by Game Yetu.