Wanyama, Ozil, Mbappe and stars pay tribute to Sala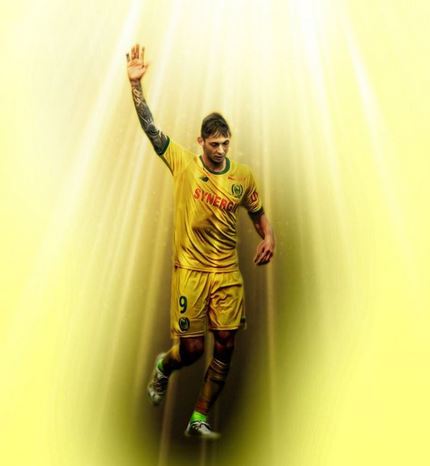 Tottenham Hotspur midfielder Victor Wanyama has joined other footballers in mourning the of death Cardiff City forward Emiliano Sala after his body was recovered from the English Channel and formally identified on Thursday evening.
News of the Argentinian footballer's death came almost three weeks after his plane crashed en route from Nantes, France, to Cardiff.
The pilot, David Ibbotson, also died.
The 28 year-old had only completed the details of his transfer to Cardiff City - for a club record £15 million - two days before the crash.
Following the news, Victor Wanyama posted a tribute on his Facebook: R.I.P Emiliano
Others stars also took to the social media to pay their tribute to the departed footballer;
Mesut Ozil on his Twitter handle wrote that: "No words to describe how sad this is. Thoughts and prayers go out to his family and also to the family of the pilot. #RIPsala".

No words to describe how sad this is. ???? Thoughts and prayers go out to his family and also to the family of the pilot. ????????? #RIPsala pic.twitter.com/Uirj6etfZk — Mesut Özil (@MesutOzil1088) February 7, 2019
???????????????? pic.twitter.com/NwDe24U3Qs — Benjamin Mendy (@benmendy23) February 7, 2019
???????????? pic.twitter.com/5onDXo6evK — Riyad Mahrez (@Mahrez22) February 8, 2019
???????????? pic.twitter.com/5onDXo6evK — Riyad Mahrez (@Mahrez22) February 8, 2019
#RIPSala ???????? pic.twitter.com/izjhYHu1aA — Iker Casillas (@IkerCasillas) February 8, 2019
???????? pic.twitter.com/Q0lkqG0HYw — PARIAZ (@Kenmadnees) February 7, 2019
RIP @EmilianoSala1 ????????????
Forever in our thoughts ???????? #CardiffCityFC pic.twitter.com/Jzx9mv2aD6 — Oumar Niasse (@niassebayeoumar) February 7, 2019