Will Gor Mahia be the biggest losers from Kerr walking away?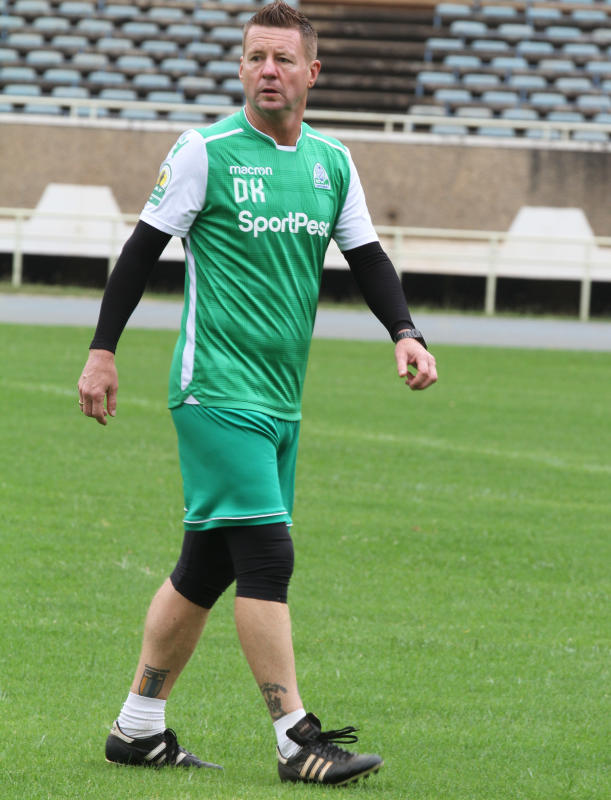 The writing was always on the wall that the Briton was already showing signs of divorcing K'Ogalo.
More often than not following a divorce - bitter or mutual - one of the partners stands to gain more from the split.
On Thursday night (November 15) the marriage that lasted 503 days between British head coach Dylan Kerr and the most glamorous football team in Kenya, Gor Mahia, came to a swift end when both parties confirmed they had parted ways.
Coaching musical chairs at K'Ogalo, the record 17-time domestic league winners are nothing new and rumours about Kerr's exit had simmered for weeks.
However, the news was still greeted by shock and caused a seismic reaction on social media in a country that had grown to adore the charismatic 51-year-old Brit who turned to coaching after retiring as a defender.
On Friday, Kerr's departure from Gor hogged online headlines at all major local news outlets (having come past newsprint deadlines) besides whipping up a huge storm on Twitter and Facebook as fans and journalists poured glowing tributes.
Kerr, a journeyman right back in his playing days in the United Kingdom who turned out for former English Premier League (EPL) sides Sheffield Wednesday, Leeds United and Reading among others, simply came, saw and conquered Kenyan football.
Since formally taking charge at K'Ogalo, Kerr led the team out on 71 occasions, winning 51, drawing 16 and losing 12- a record that saw him lead the team to two SportPesa Premier League (SPL) and the 2018 SportPesa Cup trophies.
In the past season, Kerr navigated the 10-time domestic cup winners to the group stages of the CAF Confederations Cup for the first time in their chequered history, missing out on the quarter-finals to Rayon Sports of Rwanda by a single point.
Above all, as far as the Green Army battalion is concerned, Kerr did not lose in any of his five outings against the eternal enemy, AFC Leopards SC winning twice in the SPL and once in the SPL Super Cup following his 1-1 debut in the fixture dubbed Mashemeji Derby on August 27, 2017.
The fifth meeting came in a one-off clash dubbed 'Hull City Challenge' on May 1 this year where Gor edged Leopards 5-4 in a nerve-shredding marathon post-match penalty shootout following a barren stalemate in regulation.
Kerr and his charges thus won the right to play the touring English Championship (second division) side Hull on May 13 at the Moi International Sports Centre, Kasarani in an international friendly remembered for filling the amphitheatre of Kenya's sports to its seams.
Gor succumbed 3-4 in a hastily organised post-match penalty shootout when his side could not be separated from the Tigers in a pulsating 0-0 draw.
Bizarrely, Kerr opened and closed his tenure at Gor with games against EPL outfit, Everton, the first encounter ending in an encouraging 2-1 defeat on July 13, 2017 in Dar-es-Salaam, Tanzania.
The second meeting on the night of November 6, 2018 was the writing on the wall when his team succumbed to a heavy 0-4 loss to Everton FC at Goodison Park, England.
Barely 10 days later, Kerr became the latest to take a sip from the K'Ogalo poisoned head coach chalice, with the club announcing his assistant, Zedekiah 'Zico' Otieno as his interim replacement.
"I have today (Thursday) received a resignation letter from coach Dylan Kerr. On behalf of the club, l accept the resignation because he has been good and candid enough.
"As per his letter, he is going for greener pastures and l want to wish him all the best," Gor chairman, Ambrose Rachier told the club's website with both sides keen on painting a rosy picture from what has been a simmering and messy divorce.
However, within hours, reports of the alleged maltreatment of the popular head coach by the club officials populated the Internet.
"Kerr was reluctant to say whether he was frustrated at how things are run at Kenya's most successful club insisting he still has a good relationship with the top hierarchy.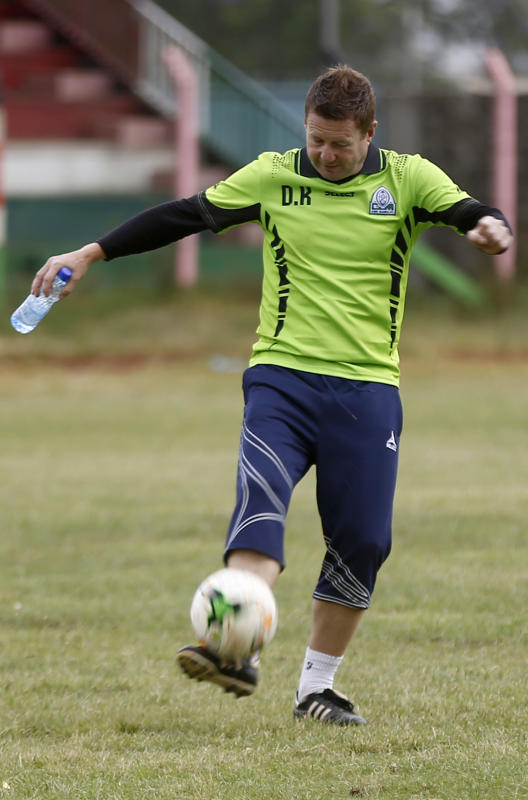 "But his reference to the recent stand-off where players boycotted training due to delay in salaries said a lot about how he feels the club is being run," as we reported yesterday.
Then in a Facebook page which is believed to be of the Club Organising Secretary, Judith Nyangi, she sensationally claims that Kerr had been forced to bathe in the shared swimming pool of his apartment at Nairobi's affluent Kileleshwa Estate.
"Kerr is the only coach who could have persevered at Gor Mahia. Imagine a coach staying in a house without electricity and water and having to shower in a swimming pool because of rent arrears.
"Fans must protect this brand at all means," said the Facebook message.
So, who stands to gain more from the annulment of the marriage between Gor and Kerr?
By the looks of things, Kerr has left with his reputation more enhanced than he came in at the club and it is up to Gor to stand tall and prove that the latest managerial divorce will not return to haunt them.
In recent years and throughout their trophy-filled history, the comings and goings of foreign coaches at Gor are nothing new.
Since Zico himself was fired as K'Ogalo head coach in 2011, Anaba Awono (Cameroon/2011-12), Zradvko Logarusic (Croatia/2012-13), Bobby Williamson (Scotland/2013-14), Frank Nutall (Scotland/2014-16) and Jose Marcelo 'Ze Maria' Ferreira (Brazil/2016-17) preceded Kerr at the K'Ogalo hot seat.
Italian Peter Pampuro was the first foreigner to be hired by Gor in 1975 followed by Ugandan David Otti in 1980 but it was another British coach Len Julians who entered the club's folklore after coming to the team three years later.
Julians is revered by the elder generation of the Green Army having led K'Ogalo to three successive national league titles before leaving in August 1985. He returned in 1991 for a second spell and won a fourth crown to be considered arguably the greatest Gor head coach of all time.
Kerr was keen on emulating and surpassing his countryman's record but cracks in his relationship with the club started appearing in Kisumu ahead of their coronation as the 2018 SPL champions on September 30.
Incensed that his players had missed training for a month over non-payment of dues, leading to four successive losses, Kerr dropped the first hint of his exit.
"This is a joke. We cannot continue running the team like this. I'm getting tired," he seethed in private but in public, he rallied his players they owed him a 'huge performance' against Mathare United to add the gloss to the trophy presentation.
Having taken a 2-0 lead, his team conceded twice late on to settle for a 2-2 draw and after a roaring 4-1 victory over Zoo Kericho (October 4) only acted to pepper the cracks as Gor fell 1-0
to Tusker on the final day of the SPL season (October 7).
Despite being a dead rubber encounter, the result perhaps gave a hint of what to become, bearing in mind the last time a title winning coach left Gor (Nutall), the Brewers went on to dethrone them from the crown in 2016.
K'Ogalo and Tusker are the only teams to have lifted the league trophy since 2011, with the count 5-2 in favour of Gor but as the shockwaves of Kerr's exit continue to be felt, events at Ruaraka should give the reigning champions food for thought.
Having brought 2012 title-winning coach, Robert 'The Lion' Matano last term to save them after a disastrous start, the Brewers recovered to finish a credible third and have gone ahead to strengthen their team, bringing in among others, 2017 SPL Most Valuable Player, Mike Madoya from Zoo Kericho.
Others are defenders, Sammy Meja, one of the bright lights in a doomed campaign for Thika United FC and Hillary Wandera, midfielder Clyde Senaji and potent Rwanda striker Muzerwa Amini.
Gor have also been busy in the market, bringing ex-Zoo's star forward, Nicholas Kipkurui, Ugandan Shafiq Batambuze and Pascal Ogweno in defence whilst Kenneth Muguna returns to the midfield.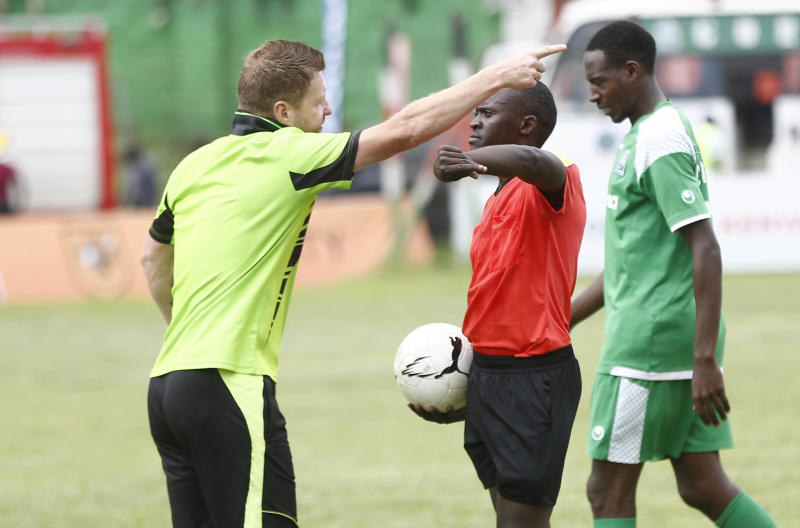 It did not escape keen watchers that the robust social media user Kerr, who uses the @legend3 handle on Twitter and has promised to keep Gor's tattoo for life, remained silent on the new signings fuelling reports he did not sanction them.
With the next SPL season starting on December 8 as Kenya moves to align its domestic football with the international calendar, the new man at the helm may not have enough time to mould their team following Kerr's departure.
They have a preliminary round of the 2018/19 CAF Champions League two-legged tie against Nyasa Big Bullets and a domestic Super Cup clash against Kariobangi Sharks FC on December 1 to navigate.
Matano and his charges meanwhile, are enjoying a solid pre-season aiming to jump to the front of the queue should the champions struggle to hold on their crown with the likes of 2018 runner-ups, Bandari FC also waiting to pounce.