Kisumu County failed to take advantage of Ronaldinho visit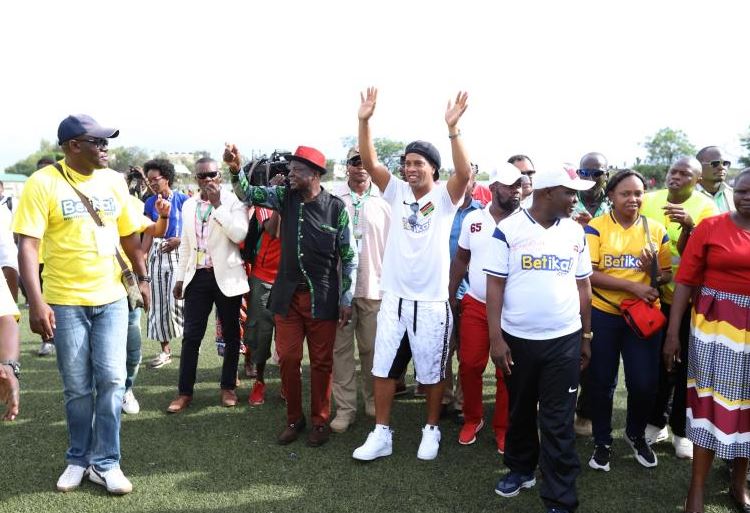 Did Brazilian Ronaldinho Gaucho's visit add any value to Kisumu County? That is the big question analysts are asking.
And when this debate was raised in my WhatsApp group of football followers, the majority answered with a big NO! They seemed to have looked at the bigger picture and saw very little or nothing at all in Ronaldinho's visit to the lakeside city.
To one of them, let's call him Otti, this was a total waste of time and space. Actually, a disgrace to the soccer-mad county of Kisumu. Otti, who has seen it all in matters football in the lakeside city, wrote this on our wall:
"Our leaders ought to be visionary enough to see the catch from this action. The decision by Betika to invest is purely dependent on the expected revenue to be generated from the investment. It is called Return on Investment (ROI)."
Indeed, for the organisers to identify Kisumu City as an investment destination and to bring Ronaldinho and his handlers along is a decision they no doubt made after analysing their revenue data.
It's obvious Kisumu is one of their best markets with great potential for growth. Of course they associate lakeside residents with football.
Imagine the amount of money spent on advertisement, travelling, branding and Ronaldinho's appearance fee (the guy is what we call in marketing a top-drawer brand).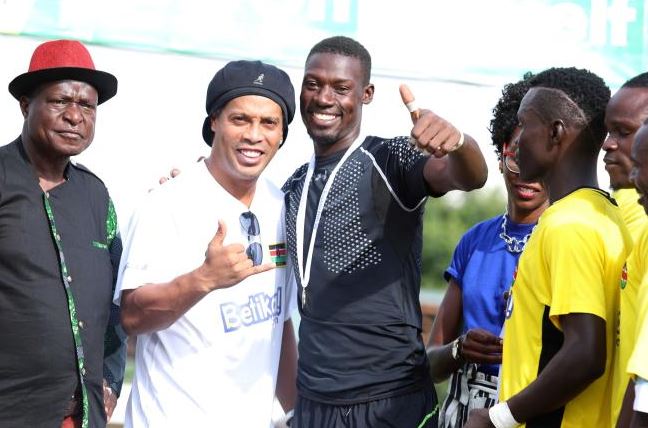 Betting is big business Kisumu with a huge fan base.
After boda boda business, betting is the next big thing to happen to Kisumu youth. I am sure revenue from betting has surpassed the turnover from boda bodas.
Now that Betika doors have been flung wide open in Kisumu, we should probably brace ourselves for CSR activities from the betting firm. This will be a great way to extend their brand and get acceptance from the community.
For the record, there is no football club worth its salt in Kisumu City. Were it not for the government parastatal Kenya Power Company sponsoring Western Stima FC, the city would have nothing to speak of in the way of football, yet the region produces some of the best footballers in Kenya.
Several years ago, before the county manenos came into being, Kisumu boasted serious clubs like Kisumu Hot Stars, Kisumu Black Stars, Kisumu All Stars, Kisumu Breweries and Kisumu Posta FC. They all collapsed in a flash and political leaders were left clutching straws in matters football. They had no clue how to go about starting and developing a competitive soccer team.
In flies Ronaldinho and they were there for the cameras. One would think they were interested in developing soccer in the city. If they were, the city would by now have a soccer academy to tap the huge potential. Ronaldinho would have then probably have been invited to unveil, say a soccer academy. That would have been beautiful.
As politicians were busy smiling for the cameras, former soccer players from Kisumu County were nowhere near this footballing great.
Ronaldinho is a gifted ball juggler, Peter Dawo was a talented ball header who scored nine goals using his head in a single continental tournament. Imagine a Ronaldinho-Dawo combo. That would have been a scoop of sorts.
I am sure Ronaldinho was told that Kisumu is the hub of Kenyan soccer. How great it would have been if they topped that with a pepeta boli session with some of the football greats from Kisumu. That would have showcased our big football names from Kisumu or those retired and living in the vicinity like Allan Thigo, Dennis Olando, Ben Obala, Maurice 'Sonyi' Ochieng, Peter 'Shapshooter' Odera, Peter Dawo, Hamisi Shamba, Goro Oronge, David Okello, Agonda Lukiyo, Martin Ouma Ogwanjo and Bobby Ogolla. In fact, the great Peter Dawo was recently engaged by the County Government of Kisumu.
Governor Wycliffe Oparanya, I hope you were watching the blunders by your counterparts in Kisumu County. Now that you are through with Bukhungu Stadium, please invest in a soccer academy and invite say Didier Drogba accompanied by Ingo's brands like JJ Masiga, Josephat Murila, Dan Musuku, Ben Musuku with Washington Muhanji flanking your guest. Let brands welcome such great international brands.