Kenyan organization, Horn of Africa Development Initiative (HODI), wins Fifa Diversity Award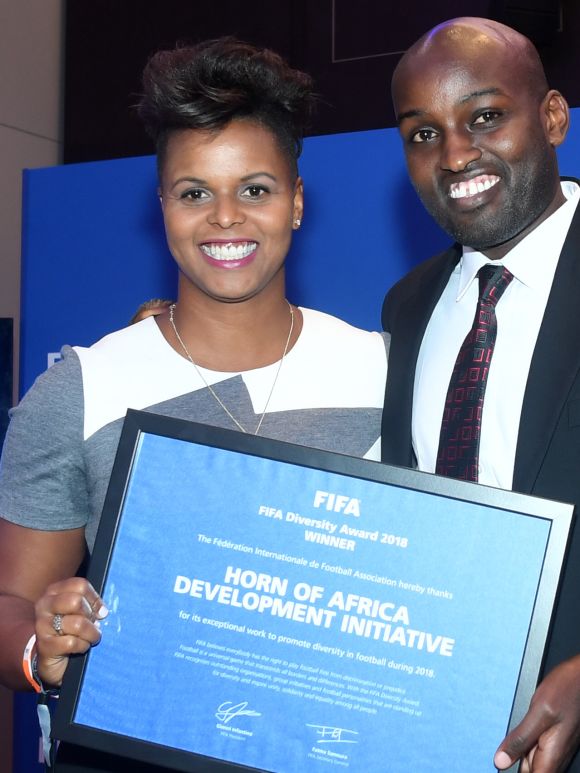 A Kenyan organization that uses football to combat social barriers has been selected as the winner of the Fifa Diversity Award for 2018.
The organisation, Horn of Africa Development Initiative (HODI) was awarded the prestigious award for "using the power of football to combat social barriers while fostering safety."
The organisation's flagship programme Shoot to Score helps to prevent young children from being forced into ethnic rivalry and conflict, providing safe spaces for learning a culture of non-violence through football.
Speaking to Fifa.com during the colourful ceremony in London on Sunday, HODI founder Noor Abdulkadir said: "This award is an important recognition and puts the wind behind our sails. It means the work we are doing is important and it gives a lot of confidence to young women in northern Kenya that we are on the right track - that Fifa and the whole football community is behind us."
"Some of the girls when they started with us, they were not allowed to kick a ball. Now they can use football to stand up for their rights and fight all forms of gender discrimination they face.
"Football has given them confidence. They have the confidence to stand up against arranged marriage or female genital mutilation in northern Kenya and report it. We are trying to change the narrative.
"This award shows that football is not just about the top leagues or top players – it's about recognising grassroots organisations which are using football to build new stars in remote regions in the world."
Moderated by sports journalist and broadcaster Amanda Davies, the event was a rich showcase of best practice on diversity and anti-discrimination through football, with representatives of diverse organisations from around the globe present, including the award's finalists John Moriarty Football (Australia) and Show Racism the Red Card (UK).
The ceremony included a keynote speech by FIFA Council Member and member of the Diversity Award jury Lydia Nsekera of Burundi and a panel with Di Cunningham of Three Lions Pride and Proud Canaries, Piara Powar of Fare network and FIFA's Head of Sustainability & Diversity Federico Addiechi.