Arsene Wenger sends special message to the club in his last press conference as Arsenal boss
FOOTBALL By Mirror | May 13th 2018 | 2 min read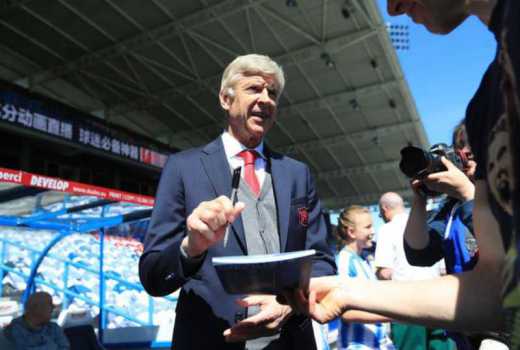 Arsene Wenger was given an emotional final farewell at Huddersfield and then joked: "I should have retired every week!"
Wenger was treated to an incredible reception, bowed and clapped away fans before kick-off and the whole ground gave a minute's applause in the 22nd minute to mark his time in charge at Arsenal.
It was an emotional final leg of Wenger's farewell tour and Arsenal fans even hired two planes with banners of "Merci Arsene" and "We Will Miss You" which came little over a year after the same fans were flying banners calling for him to go.
Arsenal boss Wenger said: "They had the wrong banner out today! It's a real special day and to keep my sense of humour I should have announced it every week that I will retire, because people have been so nice since I said that!
"It (the bow) was spontaneous, because I know that we've disappointed the away fans this season, that many of them they live the whole week and use their spare money to travel up to games.
"It's part of the respect. We had disagreements which I accept but we had one thing in common: we loved Arsenal Football Club and I wanted to share that with them today.
"I'd like thank people here and our fans. Huddersfield people showed a lot of class.
"It was a great day, a happy, they celebrated to stay in the Premier League and my last game after 1,235 games and it's maybe time, it was a special day and the players wanted to win the game. I want to thank everybody.
"I feel that I got a lot of respect not only from our fans but from England. I would reiterate I loved English football but I also learned to loved England. You do not stay 22 years if you don't like it.
"That's a good return from people who love football here. it's a special country, especially even for football an that's why I stayed a long time."