Former Kenyan international Dennis Oliech is itching a return to active football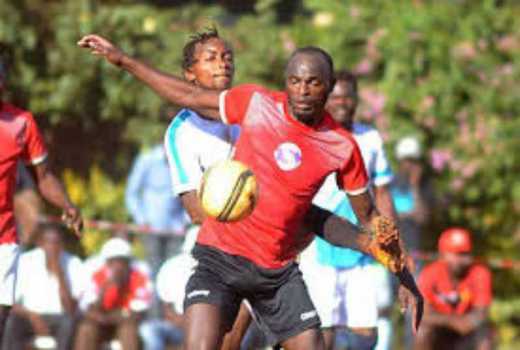 The former Harambee Stars captain Dennis Oliech has successfully completed trials at Premier Soccer League (PSL) side Free State Stars of South Africa.
Oliech has been attending trials at the PSL club for the last nine days and despite being out of action for two years the former Auxerre and Nantes player has been impressive.
Before going to South Africa, Oliech spent a number of months in France where he was shaping up in anticipation of making a return to active football.
"I have had some good training in France with a number of teams and the opportunity to train in South Africa is great and now we have to wait for word from the club. I believe there is still something for me to offer," he said.
Oliech said the two years he had stayed out has brought a hunger for success and has not in anyway affected his sharpness.
Before going to South Africa, the former Kenyan captain had aroused interest of several clubs in Zambia and Tanzania. Some Kenyan clubs had also wanted his services but he was not very keen on playing at home. While in Kenya, Oliech featured for Mathare United.
Oliech lead Stars to play in the 2004 Africa Cup of Nations finals held in Tunisia and since then the team has not played in the tournament.
Having began his career at Mathare United, Oliech moved to Al-Arabi in the United Arab Emirates and in 2003 became the first Kenyan player to feature in the French Ligue One when he was signed by Nantes.
From Nantes, he went to Ajaccio where he spent two seasons and left when the club was relegated. He had a short playing stint in the United Arab Emirates before temporarily quitting.
In the last two years, while out of football, he was the brand ambassador for betting firm Betway.
Free Stars coach Luc Eymael said he was impressed by the skill and quality of the player expressing optimism that he will be signed.
"He is not yet fit but he has a lot of quality with skills and everything. He's scoring in training and for me I am very positive that things will be okay but now it depends with the club hiearachy. The transfer window is not yet open now but we will discuss and see what comes off it," Eymael, told Goal.com.
He said the player and his representatives were expected to meet the club bosses yesterday.
Free State Stars was home to another Kenyan defender Joseph Okumu who featured at the club for two years.
All smiles as Warriors march on
Stephen Curry and the Golden State Warriors will face the Houston Rockets for a place in the NBA finals after the Western Conference heavyweights wrap