New entrants Khwisero all-stars fall as Bafana clinches second Buchere tournament title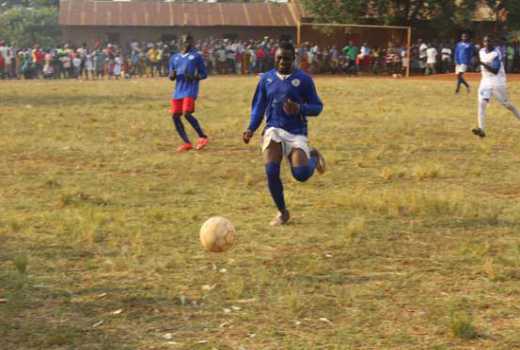 Bafana Bafana FC defied all odds to become the first team to win the annual Sir Charles Oppong' Buchere tournament for the second time on Tuesday 2nd at Emulunya Primary school, Kisa East ward, Kwhisero division in Kakamega County.
Bafana FC who had earlier on clinched the second edition of the tournament, but later emerged at position three in the fourth edition, now sets a new record being the first team to lift the tournament's trophy twice since it was started five years ago.
"Well I am happy to see our youth being engaged in sports. I am from this village here at Emulunya and would have like to see the home boys Emulunya Chelsea win this trophy, but I think the other teams are simply better especially Bafana Bafana," said former boxer, 1990 Auckland commonwealth games gold medalist Joseph Akhasamba who was among the chief guests.
The teams had played to a goalless draw in a nervy atmosphere at Emulunya Primary School grounds with both sides threatening to cause havoc to the opponents.
New entrants Khwisero All Stars came close to lifting the trophy by a whisker when they squandered a number of goal scoring opportunities including a penalty that was skyrocketed by this edition's top scorer Isaiah Nandwa.
With both teams failing to find the back of the net in normal time, it set up for a tense post-match penalty shootouts leaving the teams to rely on either their goalkeeper's shot stopping prowess or the infield players' ability to beat the keeper from 12 yards. Bafana would carry the day after finding the target with six of their spot kicks against Khwisero's five.
Bafana's penalties were converted by; Livingston Ofuyo, Philip Amakobe, Japheth Gatei, Newton Maina, Conelly Yalwala and Boniface Okulo while those for Khwisero All Stars were scored by;Morgan Ambuka, Isaiah Nandwa, Shadrack Inyangala, Sheldon Moi and Podoski Litunya.
On the Bafana's side, Oliver Amakobe and Amos Eyameti failed to score with the same fate falling on Khwisero All Stars' Carlos Orata, Collins Ayuya and Akula Otuma.
Jubilant Bafana fans stormed the field as they carried their heroes shoulder high to the podium to lift their hard earned title.
"Emulunya is the home of sports, this area has produced great sports men and women who have been of great service to this Nation. The late Kenya Simbas, rugby strong man Mike Okombe, former boxers such as Joseph Akhasamba, Patrick Kusimba, Charles Kasongo Owiso, Ken Ambundo, Ashira Oure among others come from this area," said sports writer Dave Jones Buchere Omukhwe who added that the government has neglected sports in general especially in rural areas.
In the other game Olympia FC beat Emulunya Chelsea 5-4 in post-match penalties to attain third position.
The winner of the title Bafana Bafana fc walked away with a trophy and cash prize of Kshs 15,000. Runners up Kwhisero All-stars won a trophy and Kshs 10,000, third placed Olympia Fc got a trophy and Kshs 6,000 while the home team Emulunya Chelsea who finished fourth had Kshs 4,000.
The award for the best goalkeeper went to Simon Denno of Emuruba FC, best defender Vincent Murula of Kisa All Stars, best midfielder Dan Okore of Wazee FC, Most Valuable Player was Francis Atwoli of Misango Red Stars while Isaiah Nandwa of Khwisero All Stars was declared the edition's top scorer with six goals.
In the women's category, Mushikongolo FC beat Simba FC by 2-0 in the final to clinch the trophy. The annual tournament is sponsored by the Buchere's family. It is meant to commemorate their late brother Charles Derick Buchere, who was a talented footballer.