Fifa is ready for World Cup draw
FOOTBALL By Agencies | November 30th 2017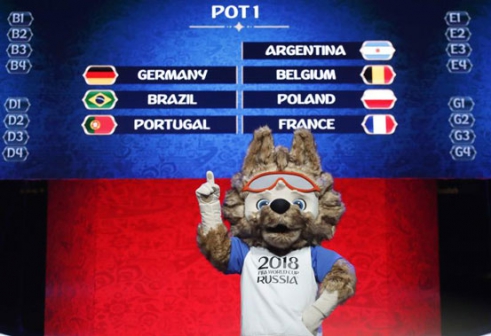 The International Federation of Football Associations has unveiled additional details of the 2018 World Cup Final Draw.
The draw at the State Kremlin Palace in Moscow starts at 6pm tomorrow. The 32 finalists will be split into eight groups featuring a team from each of the four pots. Only Europe can have two teams in the same group. Fifa changed how it allocated teams in the draw and now uses rankings alone for all four pots. At previous World Cups, only Pot 1 was for seeded teams, and the other three pots were decided by a geographical spread.
According to Fifa, "Laurent Blanc, Gordon Banks, Cafu, Fabio Cannavaro, Diego Forlan, Diego Maradona, and Carles Puyol will be the footballing royalty assisting draw conductor Gary Lineker, who will also be supported by Maria Komandnaya."
"In Pot 1, Russia will have a red ball and will be pre-assigned the position of A1 as host," Fifa said in a statement published on its website. "The remaining seven teams in Pot 1 will automatically be drawn into position 1 of each group (B to H), whereas teams in pots 2, 3, and 4 will be drawn into positions randomly in their groups," Fifa added.
"Fifa's general principle is to ensure that no group has more than one team from the same qualification zone drawn into it. This is applicable to all zones except Europe, which is represented by 14 teams," the statement says. "Each group must have at least one but no more than two European teams drawn into it. As such, six out of the eight groups will feature two European teams."
"The draw sequence will start with Pot 1 and end with Pot 4. Each pot will be completely emptied before moving on to the next. As per the standard procedure, a ball from a team pot will be drawn, followed by a ball from one of the group pots, thus determining the position in which the respective team will play," Fifa said.
The 2018 Fifa World Cup will be held between June 14 and July 15, 2018, in 11 Russian cities - Moscow, St Petersburg, Kazan, Nizhny Novgorod, Saransk, Kaliningrad, Volgograd, Yekaterinburg, Samara, Sochi and Rostov-on-Don.
West Brom appoint Pardew as new boss
West Bromwich yesterday appointed Alan Pardew as their new manager following the sacking of Tony Pulis as the Chinese-owned club seeks to pull away from the Premier League danger zone.