Origi joins hands with KEFWA to sensitize Kenyan footballers on rare condition Lupus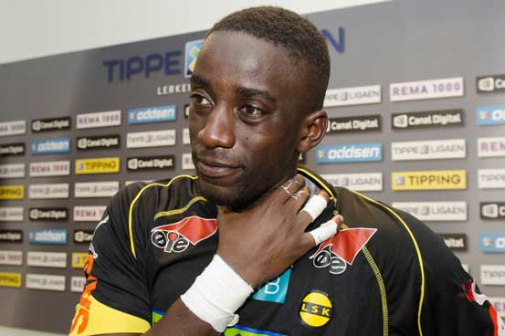 Former Harambee stars goal keeper Arnold Otieno Origi has called upon Kenyan footballers to join KEFWA in sensitizing rare condition Lupus.
Speaking from his base in Lillestrom, Norway on Thursday afternoon, Arnold was passionate about the cause, in particular because Kenyans in general have little knowledge or at many times not at all when it comes to health matters.
"I would like everyone to show up on 25th November at Utalii grounds in Nairobi for this noble cause. It is important for us in general to know more about such rare conditions among many other diseases. I think it will be a great day as it is also a family fun day with lots of sporting activities that will involve every person," said the SK Lillestrom shot stopper who also added that it is important for people to seek medical advice often.
Kenya Footballers Welfare Association (KEFWA) is in charge of the preparations i9n conjuction with Fight Lupus Kenya. The association is a workers union that represents footballers' grievances at a higher level in pursuit of justice.
Chairperson James Situma Wakhungu who plies his trade with former KPL champions Tusker fc thinks that this is the best way to let the world know about such conditions inclusive of other diseases.
"When Fight Lupus Kenya (FLK) approached us, everyone at our organization was enthusiastic about this noble cause. We represent footballers' welfare and football in general; this as a matter of fact contributes a lot in trying to get the public together because in Nairobi, football is one sport that attracts a lot of people. So our aim is to have as many people congregating on 25th November and get to know more about this rare condition Lupus," said the Tusker fc captain who also added that FLK will have their doctors available for any questions, screening and advices.
According to the 1998-2017 Mayo Foundation for Medical Education and Research (MFMER), Lupus is a systemic autoimmune disease that occurs when your body's immune system attacks your own tissues and organs. Inflammation caused by lupus can affect many different body systems including your joints, skin, kidneys, blood cells, brain, heart and lungs.
Lupus can be difficult to diagnose because its signs and symptoms often mimic those of other ailments. The most distinctive sign of lupus is a facial rash that resembles the wings of a butterfly unfolding across both cheeks. The rush also occurs in many but not all cases of lupus.
Some people are born with a tendency toward developing lupus, which may be triggered by infections, certain drugs or even sunlight. While there's no cure for lupus, treatments can help control symptoms.
KEFWA and FLP have now joined hands in their efforts to sensitize Lupus among the public. Football is a game that attracts all and sundry and this is something that the two organizations are hoping to use as an avenue to bring people together for this noble cause.