HAYATOU RELUCTANTLY EXITS SCENE: Loss by Cameroonian in CAF elections marks end of football old guards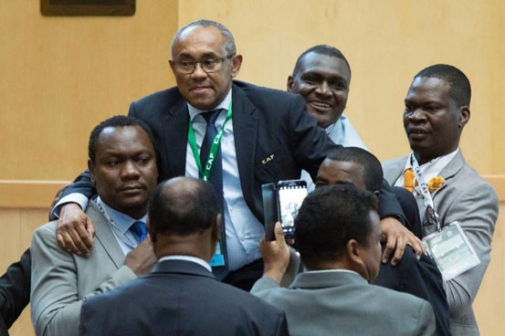 The look on his face told it all. Moments after the results of the presidential vote for the Confederation of African Football (CAF) was announced, Issa Hayatou sat motionless and looked all the 71 years of his life.
The Cameroonian aristocrat had spent 29 of those years as the seemingly untouchable leader of the continental football governing body.
He got the seat in 1988, ironically in the Ethiopian capital Addis Ababa where his reign ended on Thursday.
In what was the most momentous moment in recent African football history, Madagascar's football boss Ahmad Ahmad, 57, completed a stunning 34-20 victory over Hayatou at the Nelson Mandela Plenary Hall at the African Union headquarters, and brought an end to an era.
Such was the shock that reverberated through the auditorium where the 39th CAF General Congress was taking place that the organisation's Secretary General Hicham El Amrani who announced the outcome declared a minute later the gathering would take a lunch break as the result sunk in.
Hayatou then lifted his giant frame; one that had bestrode world football like a colossus, and walked out of the hall followed by a few allies who went to console him as his conqueror was lifted shoulder high nearby by jubilant supporters.
Watching over the proceedings was world governing body Fifa President, Gianni Infantino who looked on with delight as the man he had lobbied to become the next CAF President savoured his victory.
Ahmad's victory sealed the purge on the Fifa old guard as CAF became the last of the six confederations to have a new leader in place as a result of the mega scandal that gripped the top echelons of the game, leading to the exit of Joseph Blatter from the football throne.
From October last year until February when Infantino was elected, Hayatou was the man charged with kick-starting the reforms in the world body as interim president, a process that now appears to have been an exercise in digging his own grave as CAF president.
"To be logical, I have to acquaint myself with the house. Then I will hold a press conference to tell you 'here are the measures' because it is necessary that first a transfer of service occurs, that I take control of the house and at this point, as taking a new post, some measures have to be taken, very slowly.
"But the most urgent is probably to gather my executive committee. That's it," Ahmad said in French following his election.
He then pointed out his victory represented the wind of change sweeping across world football that has seen the former leaders of Asian, South American, North American, European, Oceania and now CAF exit their positions since last year.
"I think it's a normal changeover, a change of generation, as I always said that many federation presidents have changed, have rejuvenated.
"This necessitates automatically a need inside the confederation of a leadership change as well. It's completely normal, I think there is nothing surprising on this side," Ahmad emphasised. With his aides surrounding him and fending off reporters who were eager to get his reaction, Hayatou who was branded a 'giant' and 'colossus' by some of the heads of federations retreated from the stage without a word.
From Infantino's whistle stop 14-nation tour of Africa where he silently campaigned for Ahmad to the secret visit of the new CAF President to Kenya to seek support as revealed by national federation boss, Nick Mwendwa, the push to end Hayatou's extended reign was fraught by intrigue.
Delegates started arriving in the Ethiopian capital on Monday and it was soon apparent that Ahmad, a 57-year-old father of two, who had a discreet playing and coaching career before he took the reins of the Madagascar football federation in 2003, was better prepared for the battle.
Ahmad had organised an elaborate system to ensure that federation leaders, who were backing his bid were picked up from the Bole International Airport and whisked away to their Addis Hilton Hotel where they had been booked.
This was to ensure they could not be infiltrated by the Hayatou camp that was mostly supported by seasoned leaders.
On the eve of the vote, Ahmad and his team were furiously hunting for the three votes they needed to carry the day, having marshalled 31 countries out of the 54 who were eligible to vote.
Zanzibar was only admitted as CAF's 55th football federation before the balloting started on Thursday morning during the Congress.
According to reports, the Hayatou camp had managed to compromise Mauritius and turn their heads occasioning Ahmad's lieutenants' last minute door-to-door campaign that stretched deep into the Addis night.
Hayatou on the other hand was confident he would once again, ride out the latest challenge to his rule and dismissed age as a deterrent factor in his bid for an eighth straight term.
"Some people are saying I'm old, so I need to go. I want to remind them Blatter left Fifa at 77 and all other Fifa presidents have retired when they were over 70 years old," the man who had a kidney transplant in 2015, remarked.
Hours later, he walked gingerly out of the plenary hall defeated and to rub salt into the wounds, six of his allies lost their positions in the CAF Executive Committee.
Danny Jordan (South Africa), Amaju Pinnick (Nigeria), Isha Johansen (Sierra Leone), Amadou Diakite (Mali), Rui Eduardo da Costa (Angola), Suleiman Waberi (Djibouti), Frans Mbidi (Namibia) and Fouzi Lekjaa (Morocco) who were in the Ahmad camp became part of the 15-member CAF Executive Committee.
Following the fall of their boss, Suketu Patel of Seychelles and Magdi Shams El Din of Sudan decided not to vie to retain their first and second vice-president posts.
Hayatou's henchmen, Mohammed Raouraoua (Algeria), Anjorin Moucharafou (Benin) and Adoum Djibrine (Chad) were voted out of the executive while former Tanzania football boss, Leodegar Tenga lost to Ghana FA chief Kwesi Nyantakyi in the ballot for Anglophone Africa Representative to the Fifa Council.
"We have a new president and that is fantastic for us. I worked with him in Nairobi and you guys didn't know and congratulations to him," said FKF's Nick Mwendwa who broke ranks with other Cecafa leaders to vote for Ahmad.
"The team that has won, we are part of it. Winning is the first thing, getting the job done is the next thing. Change always comes at a time and I'm happy to be part of it,"
Nicholas Musonye, who is the Secretary General of the Confederation of East and Central Africa Football Association (Cecafa) said he was not shocked by the results.
"I'm not shocked. We have seen the sequence of events since Monday. Anything can happen in a secret ballot," he said, and added that "Hayatou has done a lot for African football and we wish him the best."