GOR READY TO FISH OUT SHARKS: KPL finally expected to kick-off today after weeks of uncertainty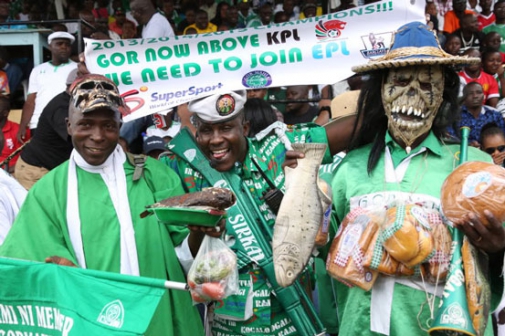 The Kenyan Premier League (KPL) is expected to kick-off today after many false starts.
KPL released fixtures involving 16 teams last week after a standoff involving the league company and Football Kenya Federation (FKF) lasted one month.
A number of matches are on the card today and tomorrow, but the highlight of the weekend will be the ties involving new boys Kariobangi Sharks and Nzoia Sugar.
They face a baptism of fire with Sharks taking on Gor Mahia while Nzoia face KPL champions Tusker.
And for someone making his maiden appearance in the KPL, Sharks coach William Muluya is surprisingly calm as he prepared his team to take on 15-time champions at Thika Municipal Stadium tomorrow.
But Muluya who helped Sharks earn promotion to the top tier this season insists this is like any other match and has asked his players to enjoy themselves.
"The only reason my players are anxious is because they cannot wait to play their first match in the KPL.
Otherwise we are not under pressure because of the pedigree of our opponents.
"We will approach this match like any other and avoid putting pressure on ourselves because we know that it can be counter-productive," he said.
Does he worry about the fans: "We will not even be thinking about them. We will play our game by giving our best. The idea is to stick to our plan and not give in to anything."
The Kariobangi Sharks tactician is, however, worried about the absence of key players such as Masoud Juma, Calvin Odongo and Ebrimah Sanneh due to injury.
"Our preparations have been great but we don't have these three players and therefore those who get a chance to play must give it their best," he said.
Sharks have an impressive midfield revolving around Osborne Monday and Ibrahim Kitawi who are likely to give Gor Mahia problems.
After beating league champions Tusker 1-0 last weekend on the way to lifting the Super Cup, Gor Mahia coach Jose Marcelo has vowed to win all domestic trophies on offer and starting well tomorrow is key to achieving his ambitions.
Many factors will work in favour of Gor Mahia as they head to Thika Stadium. One, they have not lost a competitive match at the Thika grounds in the last five seasons. Secondly, the last time they played at the venue, they won 2-1 against Thika United with Jacques Tuyisenge scoring both goals.
Marcelo said this week that he was determined to regain the league title which Gor Mahia surrendered to Tusker last season, making tomorrow's season-opener a must-win for his side.
"We have fulfilled our first objective this year, which was to win the Super Cup. We want to win every title that is on offer this year.
"Even though the rewards for this particular win are small compared to the competitions that we are about to face when the season begins, it is a good start for the team.
"What impresses me the most is that we have beaten Tusker yet last year we were unable to overcome them in the two league matches. The team played very well and that is very encouraging as we prepare for the new season," he told the league's website.
New comers Nzoia Sugar also have a tough match away to champions Tusker at Afraha Stadium today.
The sugar millers collected the highest number of points in the lower league in recent times while winning the National Super League. They will soon find out that the KPL is a different ball game.
Tusker will be determined to start well after losing to Gor Mahia last weekend. Being the defending champions, they cannot afford any slip up again.
THIKA: Nandwa happy KPL is finally kicking off
Thika United coach James Nandwa is delighted that the KPL is finally kicking off after a three-week delay. Nandwa also said he was ready for the task ahead and remains upbeat about doing well this season.