Arsenal's chairman appears to fire a warning to contract rebels Sanchez and Ozil in club's latest financial statement
FOOTBALL By Mirror | February 25th 2017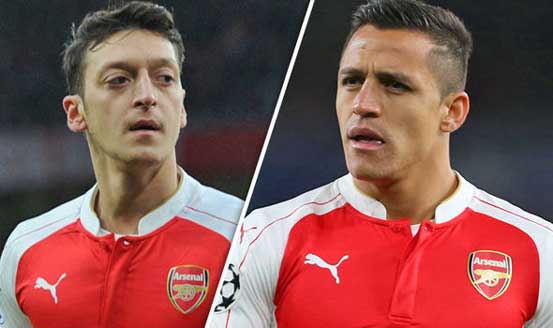 Alexis Sanchez has been warned Arsenal will not break the bank to keep him.
Arsenal chairman Sir Chips Keswick says the club will be "rational" in their negotiations with Sanchez and Mesut Ozil who are locked in contract stand-offs.
It comes even though Arsenal's latest financial results revealed they have £100m in the bank but Mirror Sport understands around £65m of that is committed to future transfer fees with many payments staggered over the lengths of the contracts.
Ozil wants a deal of around £250,000-a-week and Sanchez has been offered £180,000-a-week with both players having 18 months left on their current deals.
Arsenal remain hopeful both players will sign with talks ongoing.
In his report statement, Keswick said: 'We have continued to invest in the region of key players.
"Francis Coquelin, Hector Bellerin, Laurent Koscielny and Olivier Giroud have all signed new contracts whilst we have taken up options to extend the contracts of Per Mertesacker and Santi Cazorla.
"Further work is required in the area of contract renewals and we will continue to invest rationally in our squad retention as we move forward."
"As expected, increased Premier League broadcasting revenues have had a direct impact on player costs both in terms of transfer prices and player wage demands.
"While these are market forces that have contributed directly over time to the success of the Premier League, I would sound a note of caution in light of the very material contractual commitments to future wages that clubs are taking on."
The Gunners are clinging on to the fourth and final Champions League place in the Premier League and are all but eliminated from the competition following a 5-1 first leg drubbing at the hands of Bayern Munich.
However, they are again on course for Wembley via the FA Cup, having drawn non-league side Lincoln in the sixth round.