Chelsea jokes sweep the internet after reminding Arsenal of their 6-0 defeat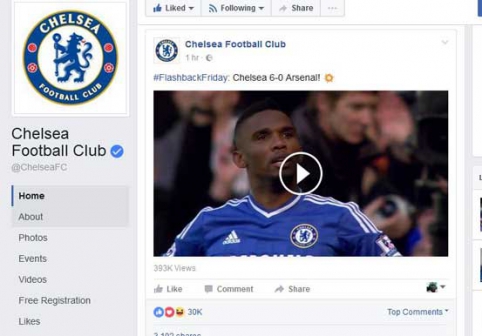 The jokes about Chelsea's 6-0 demolition of Arsenal in 2014 have been pretty much endless over the last few years.
Chelsea could not help but make fun of Arsenal again after they took to social media to remind the Gunners of their 6-0 defeat at Stamford Bridge.
In a Facebook video perhaps to warn Arsenal ahead of tomorrow's clash, The Blues compiled goals that were scored by their players against Gunner using the hashtag #FlashbackFriday:
If this annoys Arsenal supporters, just imagine the trolling should Gunners fail to beat Blues tomorrow!
Arsenal trail Chelsea by nine points and sit in third place, below Tottenham Hotspur on goal difference.
Arsenal will look to shrug off recurring doubts about their mental fortitude and the weight of recent history when they visit runaway Premier League leaders Chelsea on Saturday.
Chelsea dropped points for only the second time in 17 matches in Tuesday's 1-1 draw at Liverpool, but Arsenal could not take advantage as they crashed to a 2-1 home defeat by Watford.
It means the gap between the teams remains nine points and should Arsenal fall to defeat again at Stamford Bridge, it is likely to spell yet another premature end to a title challenge.
Arsenal's Ramsey facing three weeks out
Arsenal midfielder Aaron Ramsey will be out for three weeks after sustaining a calf strain during his side's 2-1 loss to Watford, manager Arsene Wenger revealed on Friday.