Football: New signings unveiled as Gor Mahia officially launches its lotto into the Kenyan market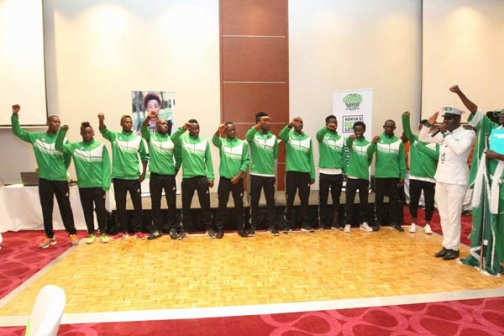 Fifteen times Kenyan Premier League (KPL) champions Gor Mahia has unveiled 14 new signings for the 2017 KPL season.
At the same time, the club has officially launched a lottery, Goma Lotto, to generate it more revenues. Goma Lotto is a mobile based lottery that the club will now use to raise funds to meet its financial obligations.
Through Goma Lotto, the club has set up a target to improve the welfare of players and officials through improved insurance cover, set up a successful football academy, build a club house, construct an ultra-modern stadium and buy a state of the art team bus.
"Two years ago we sought to acquire the license from Betting Control and Licensing Board and we commissioned a company to offer the services because we didn't have the capacity to run the project," Gor Mahia chairman Ambrose Rachier explained during the unveiling.
Rachier said the proceeds from the lottery will not be limited into building the club alone but will also be used to develop youth football of various clubs, counties, academies and schools.
Goma Lotto CEO Dorothy Liech said with the already received proceeds they now have a target to set up a Gor Mahia football academy within one year.
In order to register for the lottery, one can send a blank message or the word WIN to 29055 and follows the subsequent guidelines.
Unlike other lotteries in the market that are played with a minimum of Sh80 with jackpot draws being held twice in a week , Goma Lotto is contested with Sh20 with jackpot draws held after every 30 minutes between 6.30am to 9.30pm.
While other lotteries requires clients to select and match six numbers from 0-49, Goma Lotto requires participants to select and match only three numbers from 0-9 in order to win.
"Our services are affordable, fast paced, quick win and SMS based. I can assure you this project is going to revolutionize betting in Kenya,"Liech said.
A bus is also at stake in the first Goma Lotto's grand draw to be held after three months where all entries are legible for contest.
Rachier added that apart from the immediate setting up of a football academy, their other immediate priority is to build a stadium as they have already identified a seven acre plot whose ground breaking ceremony for construction will be done in May.
Some of key Gor Mahia new signings unveiled during the official launch of the lotto included Amavubi captain John Baptiste from Azam Fc in Tanzania, reigning KPL player of the year Kenneth Mugambi Muguna(Western Stima) and SportPesa Super 8 Premier League top scorer(26 goals) Jeckonia Uyoga from Technical University of Kenya.
Full list of Gor Mahia new signings for 2017 KPL
Player, Position, Former Club
1. Vincent Ouma Striker Shofco Fc (Kibera)
2. Mohammed Maqbul Defender Gunners Fc (Mombasa)
3. Fredrick Odhiambo Goal keeper Mathare United
4. Oliver Maloba Midfielder Nairobi City Stars
5. Teddy Osoo Midfielder Gor Academy
6. Jeckonia Uyoga Striker Technical University
7. Shaban Odhoji Goalkeeper Ushuru FC
8. Mike Simiyu Defender Muhoroni Youth
9. Philemon Otieno Midfielder Ushuru FC
10. Joash Onyango Defender Western Stima
11. Kenneth Muguna Midfielder Western Stima
12. John Ndirangu Striker AFC Leopards
13. John Baptiste Midfielder Azam FC (Tanzania)
14. Alpha Onyango striker Gor Youth