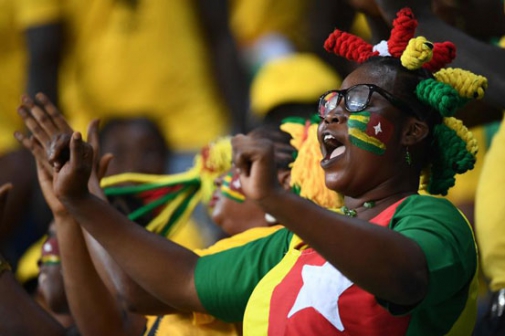 With each passing day, Gabon keeps proving they are the perfect host for this year's tournament.
Match tickets have been available at various prices, with the cheapest going for 1,000 CFA (about Sh170). Others cost 5,000 CFA (Sh850), 10,000 CFA (Sh1,700) and 25,000 CFA (Sh4,200).
But for those, to whom stadiums are not their daily cup of tea, numerous fan zones around the four hosting cities have come in handy. Here, it is always full of life as fans cheer their teams, while happily sipping their favourite drinks.
Yes, not everybody can afford the match tickets, but that hasn't stopped Afcon fever overwhelming football enthusiasts. Restaurants are enjoying an enviable boom from live coverage as well, while work in office has been at a rather slow pace, but understandably so.
Big screens as well as gigantic air-conditioned tents have been erected at strategic points. With great vantage points, there is no missing out on this biennial extravaganza.
Before Gabon were knocked out on Sunday night, sea of blue, green and yellow; their national strips, was a common sight, especially when The Panthers were playing.
But now that the their team and hosts have been reduced to spectators, tournament organisers will keep their fingers crossed, otherwise, players from other countries will have only empty chairs to turn to when celebrating goals. And if scenes will be like those in Oyem when Uganda played Mali in their last Group D match, then organisers have every reason to worry.
And 13 days into this year's Africa Cup of Nations, the 16 enemies have tasted a blend of blissful and anxious, painful moments.
After being treated to all sorts of football, where some matches were worse than watching paint dry, we are now headed for the hair-raising stage. This is where you will be sure of seeing more tears than before.
With the knockout stage getting underway tomorrow, we have seen Senegal enchantment, surprise success for Burkina Faso, and pain for hosts Gabon, neighbours Uganda and heavyweights Algeria and Ivory Coast.
By close of business yesterday night, half of the teams had packed their bags and with passports firmly held in their hands, they will anytime now take the next available flight home.
While boarding those Boeings, they will be regretting their moments of lost glory, where their dreams were put on hold until 2019 to the lucky ones, while a longer lull awaits the unlucky bunch.
Despite being clouded in unending concerns over the condition of fields in Oyem and Port-Gentil and the exorbitant prices, Gabon has been a good host. The vibrant fans and picturesque scenes in Libreville, Franceville, Oyem and Port-Gentil, have certainly confirmed Gabon as home to the beautiful game otherwise called football.
While the kind of football being exhibited here is far from being the electrifying show we had all been accustomed to, there have been some breathtaking goals to marvel at. While at it, African stars such as Senegal's Sadio Mane and the vintage Egyptian goalkeeper Essam El-Hadary have been delivering on continent's biggest stage.