Ibrahimovic's incredible tattoos and what they mean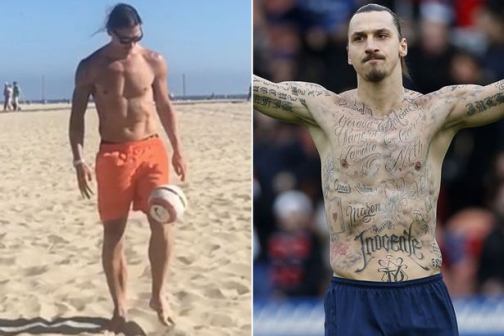 Zlatan Ibrahimovic and all his tattoos are poised to become the first mega
signing of Jose Mourinho's Man United reign, according to the Sun.
In his book, the Manchester United star said that getting tattooed became a drug for him and provided him with a 'boost'.
This is what his tattoos mean;
1. Right wrist: These numbers are known as the 'Ibrahimovic code' and
refer to the birthdates of the males in his family.
They feature his father Sefik, late brother Sapko, other brother Aleksander
and the days on which his two sons Maximilian, nine, and Vince, eight, were
born.
2. Right arm: On the top of his right arm, Ibrahimovic has the names of
his two sons in Arabic fonts.
3. Right bicep: Below them lies 'Sefik'. Zlatan and his father had
little money and in his book, the striker tells of when they had to carry
home a bed from Ikea because they could not afford the delivery charges.
4. Right oblique: Two playing cards. The ace of hearts features a letter
'H' inside it and this is thought to be in honour of his wife Helena Seger.
The ace of clubs is apparently a good luck symbol.
5. Right side: This red dragon is to show off his warrior personality
and comes from Japanese culture.
6. Left wrist: Ibrahimovic has the birthdates of his mother Jurka and
sister Sanela here. Unlike the men, the women of Zlatan's life go on the
left side because they are closer to his heart.
The men are on the right because the superstar believes that represents
strength.
7. Left bicep: Jurka, the name of his mother, in Arabic font.
8. Stomach: This is the tattoo Ibrahimovic says comes out only when he
is tanned – and was his first.
He said: "The first tattoo I got was my name across my waist in white
ink. You can only see it when I have a tan. It was mainly a test."
9.Left shoulder blade: A grey koi fish. The colour is thought to be
significant as grey koi are wild, as opposed to orange ones bred in ponds.
Koi can swim upstream and in his book, Ibrahimovic said he chose the fish
because it "went against the grain".
10. Lower back: A recent addition, this is Leonardo da Vinci's
'Vitruvian Man'. It shows ideal human proportions and the original drawing
dates to around 1490.
11. Right shoulder blade: This feather is said to come from an eagle and
represent strength and courage. It's ancrestry appears to be Native
American.
12. Right arm: Maori tribal symbol to protect him, his family and bring
good luck.
13. Right shoulder blade: A Buddhist monk image called Yant Prajao Khao
Nirote, this protects from suffering.
14. Back: Another Buddhist feature, this represents the five elements of
wind, water, fire, space and creative perception and is called Five Deva
Faces Yantra.