All eyes on Akida as Kenya makes African Women Cup of Nations debut against Ghana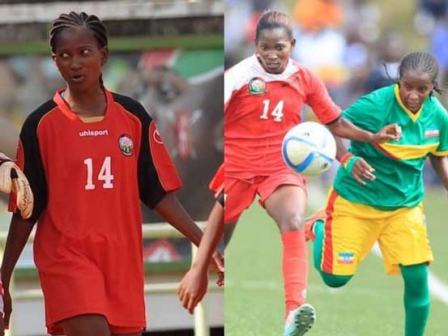 Esse Mbeyu Akida has had several plaudits since she donned national team Harambee Starlets' colours a while ago.
But as Kenya makes that historic African Women Cup of Nations debut tonight with a clash against the Black Queens of Ghana at the Stade Municipal de Limbe from 9pm, a lot is expected from the striker.
The Spedag player has been tearing her opponents apart and scoring goals at will. Although most of the local dailies here have tipped here to star in the tournament, this is the moment where she will face the real test.
With Akida's twin striking partner Neddy Atieno ruled out of the tournament after joining the Kenya Defence Forces, fans in Kenya will be expecting the former Kenya Methodist University star to play a part in writing their names in the history books of African women football.
As she celebrated her 24th birthday on Friday, two days ahead of Kenya's Group B opening match, the ever-smiling beauty played down pressure that seems to be simmering ahead of the match, saying she is ready for national duty.
"It is not a burden at all. This is not about me, but our country, which I have to fight for at all costs. I am feeling excited and eager to get on to that pitch," Akida said.
"This is the moment we have all been craving for and I thank God for making this dream of playing at the AWCON finals come true. We have had good preparations, numerous friendlies and invaluable tournaments. Those matches have really helped us rectify our mistakes and improve on our strength."
Coach David Ouma is equally excited at Kenya's AWCON debut and urged his charges to be in their best shape.
"We are just counting hours before the girls step on to the pitch. It is a moment we have been dreaming of. We are very motivated and excited to be here to represent Kenya in our first Women's African Cup," Ouma said on Friday evening after a training session at the Limbe Omnisports Stadium.
"We know the competition will be about Africa's best playing against the best. So, we believe this tournament will help us take strides in our game and define our participation in other major competitions. This is just but a first stepping stone for us.
"The players have been pushing themselves very hard and I am motivated that everybody wants to get my nod. But now, we must show we have the quality and ability, just like any other team. Of course we lack some experience, but we have sufficiently developed the team's mental strength and players now have nerves in critical moments of the game.
However, the former Sofapaka coach knows it will not be a walk in the park.
"We are going to meet teams with different cultures of the game. But we need to keep close and gauge our opening game against Ghana. We have to start rising from that match. Yes, it is possible, but we cannot underestimate Ghana because they have been consistent in this tournament," Ouma said.
"We just have to throw in everything at our disposal and get good results. The players are fully aware of this and they know whatever the situation, we must give our best.
"This is an open group with equal chances and as much as we are the underdogs, we want to ensure we represent our country well."