STARS IN ZAMBIA: Kenya face Chipolopolo in dead rubber Afcon qualifier match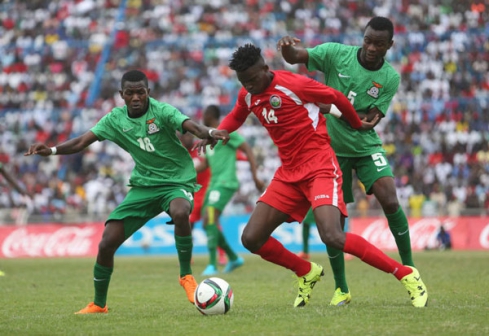 Harambee Stars end another disappointing Africa Cup of Nations campaign against Zambia today.
Stars are at the bottom of their group with just four points and it is now 13 years since the national team played in the tournament.
Along the way despite the poor show, the team's FIFA Rankings have greatly improved to a high of 88 from a low of 138.
Harambee Stars coach Stanley Okumbi who was controversially appointed in February says he is looking forward to a positive result against Zambia.
"I expect my players to give their best which should help us finish the qualifiers on a positive note," Okumbi said before the team departed for Ndola.
"It has been a great learning opportunity for the team. We could have done better but this is where we are and have to try and end well."
Stars lost 2-1 to Zambia in Nairobi last October. They also lost by identical 1-0 scores to Guinea Bissau. They however managed to hold Congo Brazaville 1-1 away and beat them 2-1 in Nairobi in what was the first win for Okumbi.
In the Harambee Stars squad, are three players who feature in the Zambian league but Okumbi insists this may not give his side any advantage. They are Jesse Were, Teddy Akumu and David Owino who play for Zambian giants Zesco and Were is their top scorer though he is yet to exhibit the same form at the national team.
"It is a positive thing that we have three players who play in Zambia but whether this gives us an advantage or not depends on whether they will play. That has not been decided. We have two or three days to make that decision," added the coach.
Harambee Stars held Uganda Cranes to a barren draw in Tuesday's friendly but Okumbi belives his charges could have done better.
"When I look at the result, I am not convinced it is the best we should have got. We deserved more than that. In the first half, it was a 50-50 affair but come the second half, we dominated and had atleast three clear chances to win the match. We should even have got a penalty and so, cant say it was the best result," he said.
Okumbi is grateful for the many international build-up matches his charges have taken part in and points out they have helped the team improve.
"After the 2017 qualifiers, we are looking at playing a number of friendly matches between now and the end of the year."
Timbe leads in Uganda Open Golf championship
Muthaiga's Kopan Timbe came from behind on Friday to lead on Day Three by positing a total of 216 gross and keep the Kenyan flag high at the ongoing Tusker Malt Uganda Open Professional Golf Championships at the Kitante's Uganda Golf Course in Kampala.