KPA LIFT TITLE: Mombasa based team clinch football trophy as Kecoso games end in Nakuru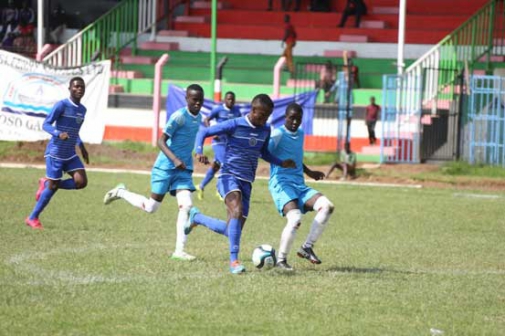 Kenya Ports Authority lifted the football title by whipping Postal Corporation of Kenya 2-1 in the final match of the Kenya Communications Sports Organisation (KECOSO) Games at Afraha Stadium on Friday.
Both teams fielded their top players who play in the top tier league.
KPA, popularly referred to as Bandari, drew the first blood in the 15th minute from a penalty converted by Anthony Kimani following a foul by one of PCK defenders inside the area prompting FIFA referee Davies Omweno to point at the spot.
The ports men led 1-0 at half time but after some changes by PCK coach Zedekiah Otieno, tempo of the game changed in their favour leading to some sporadic attacks, which resulted in an indirect free kick that was slotted home by Titus Echesa for an equaliser on the 64th minute.
KPA's Darius Msagha scored the winner on the 80th minute from a defensive lapse that left PCK's custodian Patrick Matasi vulnerable and the striker did not disappoint when he easily tapped home the winner.
Referee denied PCK a penalty in the dying minutes after one of their strikers was fouled inside the box but the referee awarded an indirect free kick instead.
"We were denied a genuine penalty that could have made all the difference," coach Zedekiah Otieno, said.
Kenya Film Classification Board dismissed PCK 46-41 to scoop the netball title after they led 25-18 at the break.
KFCB's Salima Akinyi and Helen Sinoya each scored 23 goals for their team although Evaline Anyango of PCK emerged the woman of the match when she scored 27 goals to emerge the top scorer.
Communication Authority won the men's basketball title after seeing off KPA 47-43.
KPA won the first and third quarters 10-9 and 15-4 but lost the second and final quarters 7-14 and 11-20 with KPA's duo of Martin Gitonga and Evans Leting' tying 15 points to emerge top scorers of the match.
Man of the match Joseph Khaemba of CA replied with 11 points. MOSCA piped PCK 68-61 to win the inaugural women's basketball title.
Sarah Chan of PCK was the top scorer of the tournament with a total of 47 points while Sudi Ulanga scooped the men's title at 57 points.
Natalie Akinyi of PCK and Joseph Khaemba of CA were voted the Most Valuable Man and Woman, respectively.