Organisers happy with crowds at the first two days of Olympic football
FOOTBALL By Reuters | August 5th 2016 | 2 min read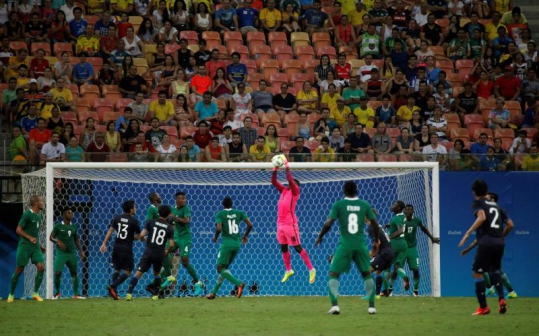 Organisers in Rio de Janeiro have declared themselves happy with crowds at the first two days of Olympic football, even though early games were notable for empty seats.
The football tournaments started on the two days preceding Friday's opening ceremony and 75 percent of tickets have been sold for the 32 men's and 26 women's matches, Games spokesman Phil Wilkinson said.
The football is played in six cities other than host venue Rio de Janeiro and more tickets have been sold for soccer than any other sport, Wilkinson added.
A crowd of 69,000 watched the host side labour to a 0-0 draw against South Africa in Brasilia on Thursday, while 27,618 watched the Brazilian women's team beat China 3-0 in Rio de Janeiro the day before.
"Overall the figures are good," said Wilkinson. "27,000 is one of the biggest ever attendances for women's football in Brazil and the men's team almost sold out yesterday."
Although the numbers were nothing like in Britain four years previously, where an astonishing 76,927 people watched Gabon play South Korea at Wembley, crowds for other games were still decent, organisers said.
Some 20,000 people watched Honduras against Algeria and official figures said another 18,000 were in the stadium to see Iraq versus Denmark. The lowest crowd of the day was in Salvador where 16,000 people watched South Korea hammer Fiji 8-0.
The Iraq-Denmark game in Brasilia preceded the Brazil-South Africa match. Once that got underway, crowds drifted into the 72,000 capacity stadium, filling huge gaps apparent at kick off.
The same scenario happened in other stadiums, as many fans, apparently not ready to watch two games one after the other, turned up for the second encounter.
"The double header makes it hard to measure, some people come later," Wilkinson said.
The gaps were apparent but were not unusual in a nation where crowds for professional games are consistently low.
Brazil has a reputation as a football crazy nation but violence, live tv broadcasts, poor public transportation and inconvenient kick off times encourage fans to stay at home.
The average attendance in the Brazilian Serie A this year is 14,446, less than in Mexico and the United States. More than half the clubs in the top league average less than 12,000.
The average attendance for the men's games on Thursday was 30,000.
Lionesses ready to roar
National women's rugby team start the chase for glory today at 5:30pm (Kenyan time) with a match against New Zealand.