Arsenal's dreams were meant to come true this season instead it could bring their worst nightmare
FOOTBALL By Mirror | March 4th 2016 | 4 min read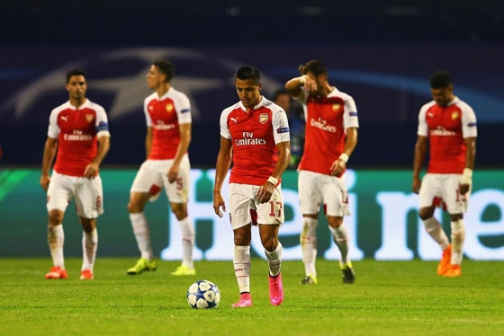 What was billed as their best chance at the title since their last win in 2004 may not only end in more frustration but with hated Spurs as champions instead
The season which was supposed to see Arsenal win the title has turned out to be just like the rest.
Their annual collapse seems painfully familiar as they have fallen six points behind in the title race in third place, are heading for a sixth successive last-16 exit from the Champions League and, realistically, have only the FA Cup left to play for.
They are even looking nervously over their shoulders, as Manchester United and West Ham are closing in on the top four.
A once-promising season is on the brink of collapse.
Sadly for Arsenal fans, it must feel like Groundhog Day, because they've been here so many times before over the last decade. The FA Cup is no longer enough.
The punters' patience is wearing thin, and the clamour for change is growing.
Arsene Wenger's future as manager is under the spotlight and the tide is turning even among his most loyal supporters.
Wenger is in his 20th year in charge and the glory days of winning the biggest prizes - Doubles and titles - seem a distant memory.
What must not be allowed to happen is for those wonderful memories to be tarnished by a painful decline in the manager and his team.
Wenger deserves to leave as a hero, the greatest manager in the club's history, rather than a washed-up shadow of his former self.
He cannot possibly think about carrying on beyond when his current contract expires in 2017 unless Arsenal have won the title again by then.
Some fans want him to go this summer.
While the board will not sack him, they must be strong enough to make a change in 15 months' time if he fails to deliver a fourth Premier League crown.
It is little wonder that Wenger looks so down.
Away from the public glare after the home defeat to relegation-candidates Swansea on Wednesday night, those close to him say he looked shell-shocked and almost lost for words.
His mood could get even worse if Arsenal lose the North London derby on Saturday — and they will go to White Hart Lane without No 1 keeper Petr Cech and their best defender, Laurent Koscielny, because of injuries.
The problem for Wenger is that the mood has changed.
The atmosphere at the Emirates has become so toxic that his team looked inhibited and afraid against Swansea.
Arsenal fans do not want to be told about winning back-to-back FA Cup triumphs and the possibility of a hat-trick in the competition in May.
This season was supposed to be their best chance to win the Premier League since their last title in 2004.
Instead, Leicester are top with Claudio Ranieri is proving you don't need a crazy budget. Even worse, the Gunners' arch-rivals Tottenham also look capable of winning the title.
That would be a bitter pill to swallow for Arsenal fans, who would also regard it as abject failure on Wenger's part if either Leicester or Tottenham lift the trophy as champions in May.
While they have come from nowhere, Arsenal have supposedly been laying foundations for success. If suddenly they are overtaken, then many fans believe Wenger's position is untenable.
We seem to have been here so many times before, and yet this time it is different because expectations had been raised and often it's the hope that kills you.
They signed a world-class keeper in Cech last summer, already had Mesut Ozil and Alexis Sanchez and looked to have a proper chance of winning the title.
But these back-to-back defeats to an injury-ravaged Manchester United and struggling Swansea exposed horrible flaws in the Arsenal make-up.
They lack heart, fighting spirit and determination.
There's little sign of leadership on the pitch and they go to White Hart Lane on Saturday resembling lambs to the slaughter.
Arsenal look short of ideas, have seemed jaded in their last two games and appear to be running on empty.
The final insult would be losing out to Tottenham — seeing their bitter rivals win the title.
It's hard to imagine the fans putting up with it any longer if that happens.
They are already booing their team off.
They were jeered at half-time and full-time against Swansea. Every misplaced pass - and there were plenty - was greeted with a groan and the players look nervous and inhibited in front of their own supporters.
Arsenal are still short in so many areas.
They need a new centre-half, a midfield general and a top-class striker. There was big money to spend, and yet Wenger chose not to.
That must go down as rank bad management.
You cannot carry on asking the fans to pay some of the highest ticket prices in world football and then be surprised when they start complaining.
If Wenger cannot take Arsenal forward, then it is time for change.
Leopards' new coach off to winning start
Ivan Minnaert enjoyed a winning start to his career as AFC Leopards head coach after the 13-time Kenyan champions registered a 1-0 victory over Bandari on Wednesday night.