'We'll miss you,' Fabregas tells Mourinho
FOOTBALL By AFP | December 17th 2015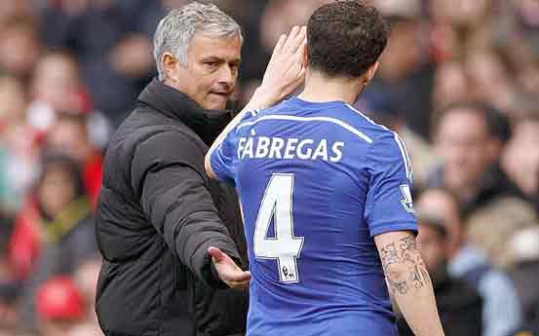 Chelsea midfielder Cesc Fabregas told Jose Mourinho "we will all miss you" after he was dismissed as manager of the struggling Premier League champions on Thursday.
"Thank you for all you have done for me," Fabregas wrote on Twitter, alongside a picture of the pair celebrating Chelsea's league title success last May.
"I owe you a lot and we will all miss you. Good luck in the future."
Fabregas is one of several players whose performance level has plummeted this season as Chelsea have lost nine of their 16 league games, leaving them a point above the relegation zone.
Chelsea's players publicly backed Mourinho throughout the team's struggles, but former Liverpool manager Graeme Souness believes that some of them had effectively downed tools.
"I think he's lost his dressing room and some of the major players in the dressing room have given up on him," Souness told Sky Sports News.
"If you fall out with two or three of the main men in the dressing room, that would quickly become all of the dressing room.
Take a quick survey and help us improve our website
Take a survey
"If you look at the quality of players Chelsea have right now, where they are in the league is ridiculous. They should not be down there."
Former Arsenal and France striker Thierry Henry said: "It's kind of a mixed reaction because I was kind of expecting it because Chelsea needed to change something and spark a reaction from the players.
"But also on the contrary, they're sacking the best manager in their history and also one of the best ever in the game.
"I think you have to hold the players accountable for what's been happening recently. But you can't sack all the players so the thing teams usually do is sack the manager."
A spokesman for British Prime Minister David Cameron expressed sympathy, but also used the opportunity to trumpet the government's handling of the UK economy.
"The Prime Minister is always sad to see anyone lose their job," he said.
"But it's worth reflecting on this week's labour market statistics, which demonstrated that there are over 740,000 vacancies in the UK economy, thanks to the excellent stewardship of the economy."