Jose Mourinho blasted as a "fake" who is "finished as a coach"
FOOTBALL By Mirror | December 10th 2015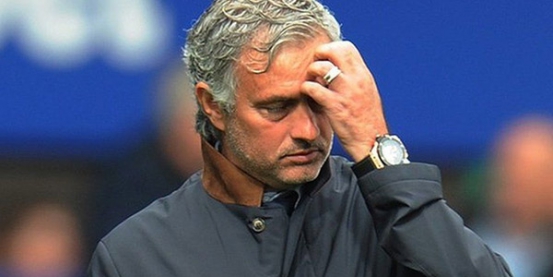 England: Jose Mourinho has been blasted as "fake" by one of his former Chelsea players, who insists "as a coach, he is finished".
The Blues' season has gone from bad to worse, with Saturday's home defeat by newly-promoted Bournemouth the EIGHTH time they have lost in the league – no reigning champions have won fewer or lost more after 15 games in Premier League history.
Despite the appalling season boss Mourinho has been defiant ahead of their Champions League clash with Porto on Wednesday, insisting he is not solely responsible for their lacklustre showings - but former Stamford Bridge striker Adrian Mutu is laying the blame firmly at the Portuguese's door.
Mutu, who enjoyed a tumultuous relationship with Mourinho during his short but controversial stay at Stamford Bridge between 2003 and 2004, told MirrorFootball: "He has been a great coach in the past, but as a person, he is fake.
"He only looks after himself, and has no consideration for how his players are feeling and thinking. You could not go and talk to him.
"As a coach, he is finished. There is no way back for him. How do you come back from something like this [current form]?"
There has been signs of discontent in the squad in recent weeks, with Diego Costa appearing to throw his training bib at Mourinho after being an unused substitute in a 0-0 draw at Tottenham.
However, the Blues boss is famed for the rapport he has with his players and fellow managers, with Sir Alex Ferguson the latest high profile name to give his backing to the beleaguered Blues boss.
Mutu doesn't share Ferguson's views, and after the events that unfolded during the Romanian's time in London, it is hardly surprising he has taken such a forthright view.
After failing a random drugs test in September 2004, following his big-money move to Stamford Bridge the previous summer, Chelsea took a 'zero tolerance' approach to Mutu's actions and terminated his contract despite Mutu hoping that the club would help him in his rehabilitation.
The pair had already clashed over Mutu's decision to defy his manager's wishes and travel to the Czech Republic for a 2006 World Cup qualifier, despite Mourinho insisting his striker was injured – meaning Mutu did not hold back when questioned on Mourinho's management style.
"You can see now how many of his players look unhappy. Why? He is the reason," Mutu added. "He cannot talk to players like they should be spoken to.
"The first thing he does is he goes to the biggest player in his team, and tries to make him angry.
"No matter who it was, John Terry, Frank Lampard, it is just what he does for fun. That was just his way of doing things, and he won't change for anyone."
Mutu was speaking after finishing his first season playing under David Platt at FC Pune City in the Indian Super League, and is still to decide what his next move will be.
"I have enjoyed my time in India, and my fitness has improved," Mutu added. "We will see what the future holds, but I would definitely be open to a return to the ISL."