Liverpool reject Man City's second transfer offer of £40million for Raheem Sterling as Pellegrini turns attention to Jack Wilshere
FOOTBALL By Mirror | June 19th 2015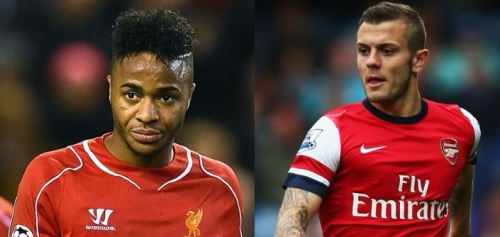 Jack Wilshere will become Manchester City's next English transfer target.
Deposed champions City are expected to make an initial £30million move for Arsenal midfielder Wilshere.
That comes after a £40m bid for Liverpool's Raheem Sterling was rejected late on Wednesday.
While City consider whether to raise their bid - which included £5m in add-ons - for the 20-year-old a second time, they will turn their attention to Wilshere.
The Blues are desperate to boost the number of 'home-grown' players on their books and England international Wilshere fits the bill - although last week he warned he would not sign for a club based on fulfilling a nationality quota.
The Gunners' 23-year-old star, who scored his first England goals in Sunday's win over Slovenia, was fined £40,000 and warned about his future conduct on Wednesday after admitting a charge of making inciting comments during Arsenal's open-top bus celebrations following their victory in last month's FA Cup final.
Meanwhile, Liverpool made it clear they are currently in no mood to do business with City over winger Sterling, who has refused to sign a new contract.
The American-owned Reds are adamant City will need to add millions to their offer and have also told them they will accept only a cash deal - with no players added in to bump up the value.
City had tried to include the likes of strikers Edin Dzeko, Stevan Jovetic and Alvaro Negredo in their early negotiations.
Liverpool's principal shareholders John Henry and Mike Gordon were immersed in meetings on Wednesday, where they indicated their stance hasn't changed from a position which bluntly stated they have no need to sell.
City have done one deal for an English-born player, though.
They have agreed to sign Fulham's highly-promising Patrick Roberts for £8m.
But the 18-year-old forward is likely to be sent on loan to a Championship club - Fulham have asked about getting him back - or another team in the Premier League.
City are likely to pay the majority of the fee up front with add-ons to follow.
Brazil's Neymar suspended for one match
Brazilian star Neymar has been provisionally suspended for one match and could face a harsher final punishment, officials said Thursday after the striker received a red card during a fracas in Brazil's Copa America loss to Colombia.