WARIO'S OPTIONS: Cabinet Secretary must unlock legal complications to act on FKF and KPL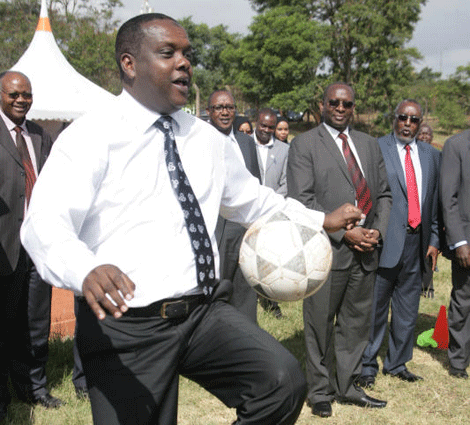 Cabinet Secretary for Sports, Culture and Arts Dr Hassan Wario tries his football skills during the launch of the Kenya Academy of Sports at Kasarani on Friday, January 23rd, 2015. PHOTO/JONAH ONYANGO.
The Football Kenya Federation (FKF) and Kenyan Premier League (KPL) factions meet today to end the impasse of running the 2015 top tier league, as ordered by Sports Cabinet Secretary Hassan Wario on Monday.
But even so, authorities, who include the Cabinet Secretary himself, face a legal conundrum which must be unlocked and interpreted soberly to find a way of dealing with the matter effectively.
FKF has not applied for registration as required under the Sports Act 2013. Article 49 (3) says: "An existing sports organisation that does not apply for registration within the time prescribed in subsection (1), shall not be recognised as a sports organisation for the purposes of this Act."
KPL has already applied to be registered under the Act, but FKF insists on remaining under the Societies Act, according to what the Vice President Robert Asembo said in a recent interview with The Standard.
This could force the Sports Registrar under article 49 (1) to withdraw recognition of FKF as a sports organisation.
KPL, on the other hand, could easily fall under the Act, if section 3 of Article 49 is applied: "Provided that an existing sports organisation in respect of which—
(a) an application for registration has been made by it under subsection (1) and has not been rejected; or (b) an appeal has been lawfully made under this Act and remains undetermined, shall continue to be recognised as a sports organisation for the purposes of this Act.
If the Cabinet Secretary wants to act on FKF and KPL if they fail to agree on the way forward, as is widely speculated, he will first of all want to deal with this matter of registration. Does FKF fall under his jurisdiction to enable him to deal with it?
RETAINING 16 CLUBS
Among the sticky issues in this impasse is the composition of the KPL, with FKF preferring 18 teams and their nemesis insisting on retaining 16 clubs as recommended by a Fifa expert consultant.
The other issues causing differences between the FKF and KPL are extension of contract with SuperSport for five years and promotion of three teams - Shabana, Homeboyz and Nakumatt - to the top league.
Article 54 (1) of the Act will also cause problems for Wario. It says he can only intervene where a sports associations fails to comply with the recommendations of an inspection.
Such an inspection should have been ordered by the Sports Registrar at any time or at the direction of the Cabinet Secretary and focuses on the books, accounts and records of an organisation.
bid to end stalemate
Article 54 (1) titled 'Intervention by Cabinet Secretary in management' says: "Where a sports organisation fails to comply with the recommendations of an inspection, the Cabinet Secretary may appoint any person or committee to assume the management and control of the affairs of a sports organisation, to exercise the powers and functions of the organisation.
The article also gives the Cabinet Secretary powers to remove any official of a sports organisation who, in his opinion, has caused or contributed to any contravention of the Sports Act.
The Cabinet Secretary also has power to appoint a person or committee to take over the running of an organisation whose officials have been removed, but this shall be for a period not exceeding six months.
Today's meeting comes two days after Wario met KPL and FKF officials in his office in a bid to end the stalemate, but after a two-hour meeting no decision was reached.
Despite warning by FKF, KPL went ahead and organised their season opener pitting Gor Mahia against Sofapaka. FKF, on the other hand, has also started their own league where Shabana beat Nakumatt 1-0 on Sunday at Machakos Municipal Stadium.
Previous meetings between the two bodies have always ended in a stalemate and it is not known whether today's meeting will end with a solution.