Angel Di Maria suggests separate Ballon d'Or awards for Cristiano Ronaldo and Messi
FOOTBALL By Mirror | February 10th 2015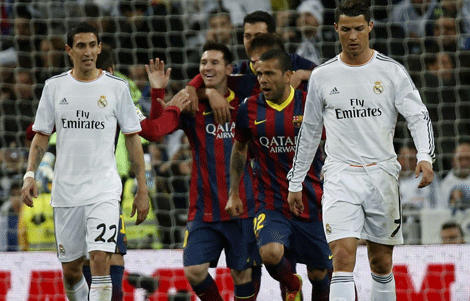 Cristiano Ronaldo and Lionel Messi should have their own Ballon d'Or, says Angel Di Maria
Angel Di Maria has joked that there should be two Ballon d'Or awards - so that players other than Cristiano Ronaldo and Lionel Messi could have a chance of winning one.
The last seven awards have been won by the pair, with Di Maria's countryman Messi claiming four and former Real Madrid teammate - and current holder - Ronaldo bagging three.
Kaka was the last player to win the award outside of the big two when he claimed the gong after inspiring AC Milan to Champions League glory in 2007.
As one of the only players in world football to have played with both players on a regular basis, Di Maria is consistently asked to compare the two - and he says he never gets bored of doing so.
"No [I don't tire of comparing them], because I always say the same thing: that they're two completely different players," Di Maria told FIFA's official website.
"Leo features in every game, making short bursts and nonchalantly dribbling past one, two or three players with great ball control in tight spaces.
"Cristiano is more about power, long range shots… they're different.
"If I were FIFA, I'd have two Ballon d'Or prizes, one for that pair to fight over, and another for everyone else."
Di Maria started Manchester United's 1-1 draw at West Ham on Sunday just days after his family became the victims of an attempted break-in at his Cheshire home.
Take a quick survey and help us improve our website
Take a survey