FKF Nairobi wants Super 8 to follow rules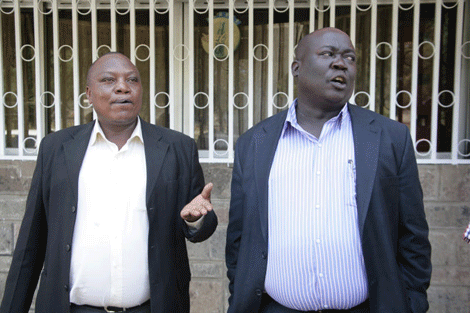 FKF NEC member Simon Mugo, left and FKF Nairobi branch Chairman Michael Ouma after meeting 109 Clubs to chat wayfoward for the forth coming Super 8 tourney at Nyayo National Stadium on Monday 09th, 2015. PHOTO/JONAH ONYANGO
FKF Nairobi branch clubs meeting bringing together 120 clubs have resolved to defer the Extreme Super 8 tournament following a session yesterday to explain the branch's policy on pre and post season tournaments.
At a meeting at Nyayo Stadium yesterday, FKF Nairobi Branch chair Michael Ouma said: "All pre-season tournaments, which must be sanctioned by FKF, must be played between November and January 31."
"Extreme Super 8 tournament will not kick off because it was not sanctioned by the branch and FKF as per the FKF constitution."
The meeting, which was attended by the Branch's Executive Committee, including the FKF NEC Nairobi representative Simon Mugo also agreed to hold a pre-season meeting on February 21, in Nairobi ahead of the new season kicks off on March 7.
Mugo said there was need for order within the branch to allow for structured football development.
"That is why the branch will not hesitate to take swift and severe disciplinary measures against any referee, coach and administrator, who are our members, who participate in or officiates a tournament that is not sanctioned," he said.
The branch backed the national office's push for an 18-team league saying FKF acted within its mandate.
''Nairobi Branch has 280 clubs, the expansion of the Kenyan Premier League creates an opportunity for teams in the lower leagues, which qualify, to feature in the country's top league," he said.