KPL: Questions raised over Footballer of the Year Award awards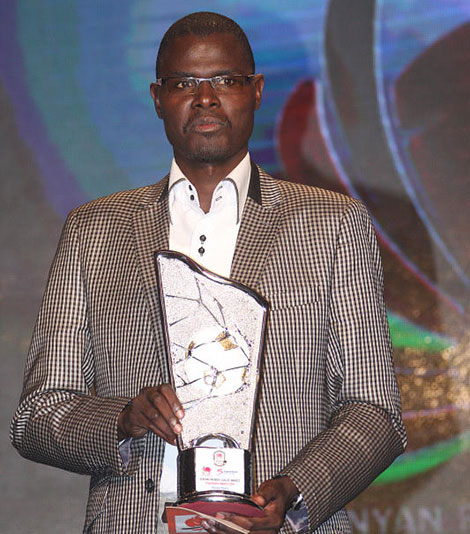 Gor Mahia Assistant Secretary General Ronald Ngala with his Chairman's award during the 2014 KPL Footballer of the Year Award (FOYA) gala at Safari Park Hotel on 19-11-2014.PHOTO/DENNIS OKEYO
The 2014 Kenyan Premier League FOYA awards will go down as the most shambolic fete ever in Kenya's football history.
From the nomination process to the awards gala, indications were clear that all was not well and the event was bound to be a sham as a number of meriting players did not make the nomination list.
This was evident on Wednesday night at the Safari Park Hotel as the Gala awards did not reflect the true picture of the best performers in the just-concluded season with pundits, a section of club officials and fans claiming the event was shambolic and has lost credibility.
Despite the fact the selection panel comprised 16 coaches of the KPL clubs who might have got it right on the player of the year winner, Sofapaka's Antony Ndolo, the exclusion of golden boot winner Dan Sserunkuma, Ulinzi Stars duo of James Saruni and Hassan Rio Mohammed and other nominations raised eyebrows.
Mike Mururi's coach of the year award against Sofapaka's Sam Timbe (first runners-up), Jerim Onyango and Felly Mulumba's second runners-up awards were the shock of the night, with murmurs all over in the hall.
At some point, emcee of the event, Chiko Lawi, was forced to interrupt Meru County Governor Peter Munya's award presentation in the best goalkeeper category after he called Jerim Onyango to pick up his second runner-up award.
Ironically, Gor, whose fans had been involved in acts of hooliganism this season, clinched the first runners-up fair play team of the year.
The ceremony left a lot to be desired as underlined by an Ulinzi Stars official who sought anonymity.
"I don't understand why Saruni and defender Rio were not nominated. This event has lost credibility as deserving players are not honoured," he said.
"The statistics of the two players show a decent thing. We proved to them that Rio's statistics surpassed all the nominated defenders. Rio played more minutes, booked twice and got six MVP awards. We lost only three games and that means we had a formidable defence," he said.
Gor Mahia Organising Secretary David Kiilo said the event has lost its value in the football industry.
"It's shabbily done. Consider what happened in 2012. For one to be a champion means all the departments were working. How can't we produce the player of the year? The way it's being handled it's going to lose value," he said.