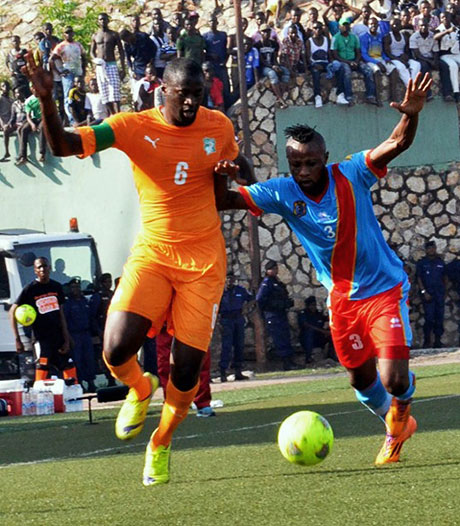 Ivory Coast's Yaya Toure (L) vie with ball with Congolese defender Jean Kasusula (R) during the 2015 African Cup of Nations qualifying football match between Democratic Republic of Congo and Ivory Coast (Photo credit should read STRINGER/AFP/Getty Images)
Abidjan: Ivory Coast embarrassed DR Congo on sunday at their Kinshasa backyard, winning their 2015 Africa Cup of Nations Group 'D' tie 2-1. But in a result play off, DR Congo came back on Wednesday 15 October 2014 and avenged the unabearable loss nailing 4-3 in a fourth round clash at the Félix Houphouët-Boigny in Abidjan denying Ivory Coast early qualification to the 2015 Africa Cup of Nations.
DR Congo showed early winning intentions, setting a 1-0 lead by the 21st minute with a goal from Neeskens Keban. But four minutes later Yaya Toure neutralized with an equalizing goal.
Toure's strike irked DR Congo's side and they sprung to action netting two goals, one from Junior Kabananga in the 35th minute and another from Jeremy Bokila to carry a 3-1 lead at the break
It looked like a do or die for Ivory Coast when two minutes into the second half Franck Yannick Kessie was slapped with a straight red card.
But Ivory Coast reorganized well and bounced back to a tie at the 72nd minute, with former Chelsea striker Salomon Kalou netting in the second goal nine minutes after the hour and three minutes later evened with a third goal.
But DR Congo were determined to bask in the glory, by running away with as much goals as possible when 25-year old striker Bokila completed the glory with the deciding goal. The Wednesday results saw Ivory Coast drop to third place on six points, tied with DR Congo, who return to second place on goal difference. The two are four points short of leaders Cameroon.