Arsene Wenger taking nothing for granted against Spurs
FOOTBALL By Reuters | September 26th 2014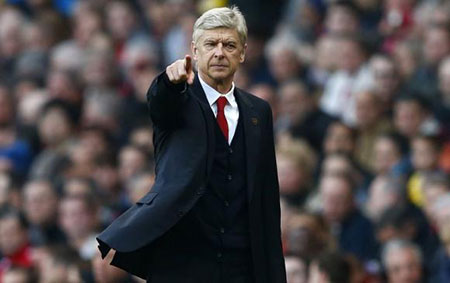 Arsenal's manager Arsene Wenger {courtesy: Reuters
LONDON: Arsenal have only lost six times to Tottenham Hotspur in 43 matches since Arsene Wenger became their manager nearly 18 years ago, but the Frenchman is taking nothing for granted before the first north London derby of the season on Saturday.
"North London derbies are always very intense and the players from both sides know each other so well," he said at his pre-match news conference on Friday.
He also dismissed Spurs' recent poor league run, which has seen them take one point from their last three matches, saying he expected a typically tough battle against their neighbours.
"It's too early in the season to judge a team but Tottenham have introduced less new players than they did last year and they can only benefit from that stability -- and they have a quality manager (Mauricio Pochettino) as he showed at Southampton.
"We are playing at home and we want to win our home games. These games are important moments in the season. Over the years Tottenham have always had a good team and for us to be on top of them means we can fight for the top of the league."
Spurs make the short trip the Emirates having only won once at Arsenal since Wenger's arrival in October 1998 when they came from 2-0 down to win 3-2 there nearly four years ago.
Their other five victories have all been at White Hart Lane, but they lost three times to Arsenal last season in the League and FA Cup without scoring.
But Wenger has troubles of his own with new defenders Mathieu Debuchy and Nacho Monreal missing through injury while Arsenal have only won one of their last five games in all competition.
Wenger needs to lift his side -- though that won't be difficult seeing who the opposition are -- after their 2-1 home defeat to Southampton in the Capital One (League) Cup on Tuesday.
"It was a disappointment to go out against Southampton but there will be a completely different team tomorrow," he said.
While Debuchy and Monreal are out Wenger had better news on other players.
"Mathieu Flamini is back in the squad and Per Mertesacker is fit again, though Nacho Monreal is still out," Wenger said.
Pochettino is the 10th manager to take charge of Tottenham during Wenger's long reign at Arsenal.
When told that the Argentine said on Thursday he'd like to stay at Spurs as long as Wenger had been at Arsenal, the Frenchman laughed: "I wish him luck."
Bubbly West Ham seek to extend Man United gloom
In-form West Ham United are just about the last team Manchester United would want to face on Saturday as Louis van Gaal's side seek an immediate response to their Premier League collapse at Leicester City.