Sum stars again: Jepkosgei makes semis as Rudisha pulls out of 4x400m relay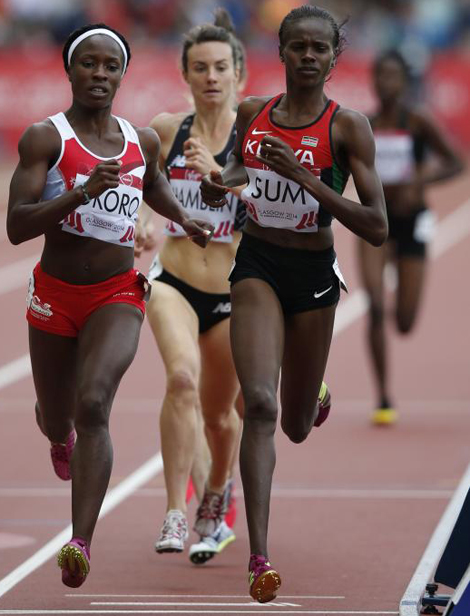 Kenya's Eunice Sum competes in the heats of the women's 800m event at Hampden Park during the Commonwealth Games in Glasgow, Scotland. [PHOTO:AFP]
World 800m champions Janeth Jepkosgei and Eunice Sum launched their title campaign on a winning note when they qualified for the semi finals of the two-lap race here at the Hampden Park Stadium from 9:10pm.
Jepkosgei, the 2006 Commonwealth Games champion, wants to bow out of the 'Club' games two-lap race specialty in a spectacular fashion – handing over the mantle to her apprentice Sum and her other understudies.
She qualified into today's semi-final after finishing third in heat two in 2:05.37 behind Canada's Smith Jessica (2:05.22) and Nanyondo Winnie (2:05.29) of Uganda.
Jepkosgei, who won silver (2009) and bronze (2011) at the World Championships, has been in the 800m for the last decade and is keen to leave the stage for upcoming athletes.
keep focus
Jepkosgei said: "We just need to focus on qualifying to the final. The completion is too stiff here. We need to be at our best."
Sum, who was introduced into athletics by Jepkosgei, has defied the odds to beat her mentor in the two-lap race in many races recently.
She won heat four in 2:02.36 ahead of Kirk Katie (2:03.00) of Northern Ireland and Australia's Mcgowan Brittany (2:03.08). Hamblin Nikki (2:03.32) and Akoro Marilyn (2:03.90) of England qualified as the fastest losers.
Sum, who is a cousin of 2007 World 800m champion Alfred Yego Kirwa, said she sets her sights on the semi-final then will have to plan for the finals, when the time comes.
"It's not easy. Championship races are normally unpredictable and we cannot rule out anyone," she said.
Uganda's Winnie Nanyondo, who has a personal best time of 2:02.23, is a star to watch, having run 1:58.63 in Monaco a fortnight ago.
Agatha Jeruto Kimaswai, who made the national team to 2011 World Youth in Lille, France and with a personal best time of 2:00.95 time set in Oslo last month, saw her medal dreams go up in smoke after she finished fifth in 2:04.64 in heat one.
Meanhwile, David Rudisha, the World 800m record holder has withdrawn from the 4x400m relay team. Rudisha said the race demands high speed, which he cannot make it as he is still picking up form.
Boniface Mucheru sailed into final of the 400m hurdles after finishing second in 49.67 seconds in heat three ahead of Cato Roxroy (49.51) of Jamaica. Nicholas Bett (51.21) did not qualify in heat one.
Carvin Nkanata secured a final berth in 200m after second place in 20:65 while Collins Omae failed to qualify.