This man Eliud Kipchoge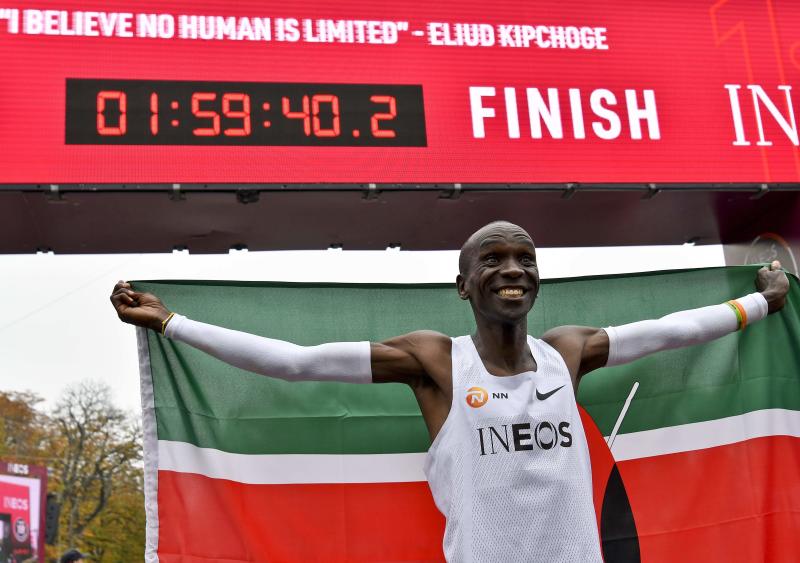 He's a humble man and cannot attract a passing glance in Eldoret town.
Yet he achieved one leap for mankind in global athletics – posting a jaw-dropping 1:59.40.2 at the Ineos 1:59 Challenge in Vienna, Austria, yesterday.
And Eliud Kipchoge entered the books of records to lie in the same wavelength with Neil Armstrong, Buzz Aldrin and Michael Collins who landed on the moon on July 20, 1969.
Not bad for a man who was born by the granary at his rural home in Kapsisywa village in Nandi County. His name Kipchoge means 'one born by the granary.'
After completing Form Four at Kaptel Boys High School, Nandi County, Kipchoge tried his hand in business. He worked as a shopkeeper, a butcher and a milk vendor.
As he cycled the family's bicycle across the rugged Kapsisiywa terrain, something tragic happened. The bicycle broke down. On the bicycle carrier sat 150 litres of milk.
Business mind
Unknown to him, the little incident at Kimondi River – some five kilometres from the milk depot – was going to change his life forever.
Afraid the milk would go bad, the young Kipchoge decided to run to his friend Daniel's home to borrow his bicycle.
"That's the day his talent was born. I still remember that day vividly. Young Kipchoge tore through the busy terrain, pounding the ground as he broke into one hell of a run. Those who saw him run knew he had a tank that would sustain a marathon. They told him to go for it and he did it," said John Kiptum, a neighbour.
And the rest is history.
While in camp, he enrolled at Alphax College in Eldoret where he pursued in a distance learning course in human resource development. He is an avid reader and loves quoting from world-famed philosophers.
He is a devout Catholic and attends mass at Kugeroniot Church near his home in Kapsisiywa village.
Kipchoge defies every description of a successful Kenyan athlete.
His intelligence, eloquence and outgoing nature sets him apart from other athletes. Investment stands out as his subject of conversation, thanks to the childhood challenges he went through.
Janeth Rotich, his mother, said Kipchoge had a business mind at a young age.
He has invested in real estate and farming in Uasin Gishu and Nandi counties.