I prayed for my son, mother says after historic marathon
ELIUD KIPCHOGE By Edward Kosut | October 13th 2019 | 3 min read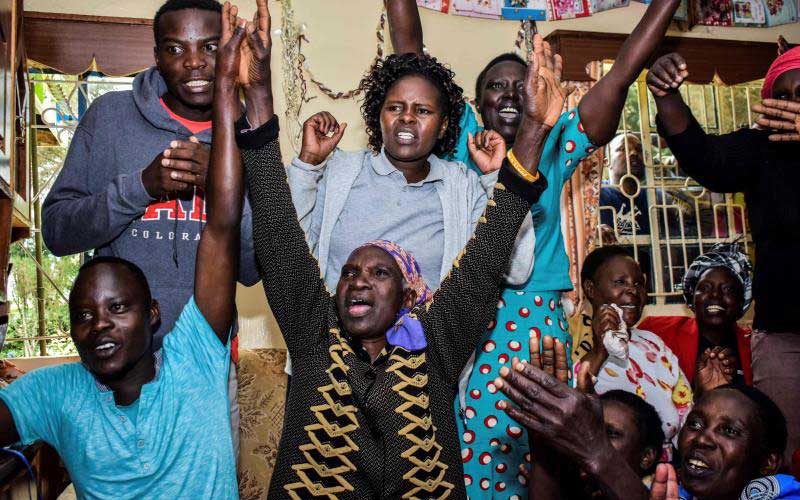 As the action kicked off, Eliud Kipchoge's mother Jane Rotich bowed he head for a moment to perhaps pray for her son as he started a race billed to redefine the history of marathon.
It was a chilly morning in Kapsisiywo village, Nandi County, where Kipchoge was born and bred.
The mother held her chest with her right hand as her son, a team of pacesetters and a timer waited to start the race.
Alongside Mrs Rotich sat Kipchoge's uncle Paul Songol who kept reassuring her that her son would succeed in running for 42km under two hours.
At the end of the race, the house burst into a celebration characterised by song and dance as villagers thronged the compound.
She sat pensively as Kipchoge's clock towards the 1 hour, 59 seconds ticked.
"I prayed and fasted for him to achieve what God had planned for the family, and Kipchoge has made me the mother of athletes," an overjoyed Rotich said.
When her son crossed the finish line, she broke into tears. Not because she was sad but because of the pride and joy that Kipchoge fulfilled his promise to inspire millions of people across the world through his philosophy of "no human is limited".
"Kipchoge has made me and the entire family happy. He has also made me known to the world," Rotich said as she held a trophy won by her son in the world championship in 2003.
Eunice Jeruto, Kipchoge's sister, immediately after the race, led tens of fans who had filled the compound in a traditional dance while chanting Kipchoge's name.
"Our son has done what no one has ever done, he has finished the race and kept the faith. God has enabled him to achieve and prove to humanity that no human is limited," Jeruto said while admiring the golden trophies that decorated the vicinity in the merriment atmosphere.
Jeruto said the 1:59:40 time recorded by Kipchoge in Vienna inspired her family as well as the world.
She described her brother as a courageous man who is a descendant of the legendary Koitalel Samoei, the Nandi Oloibon who led the community in a prolonged fight against the British colonialists.
"My brother is courageous and determined. We knew that he had what it takes to break the two-hour barrier and he proved those who didn't believe in his cause wrong," she said as she held her mother tightly.
Jubilation was palpable on the face of Willy Chumba, was full of praises for his younger brother, saying he represented the country well in the historic race.
"Our family, which is part of the Talai clan, is now known to the world. This adds up on our history since the fight of our community against the British," said Chumba.
He said his brother, despite being a last born, has been respectful and humble and the most hard working in the family.