Seven reasons why Eliud Kipchoge's feat in Vienna will NOT be recognised as World Record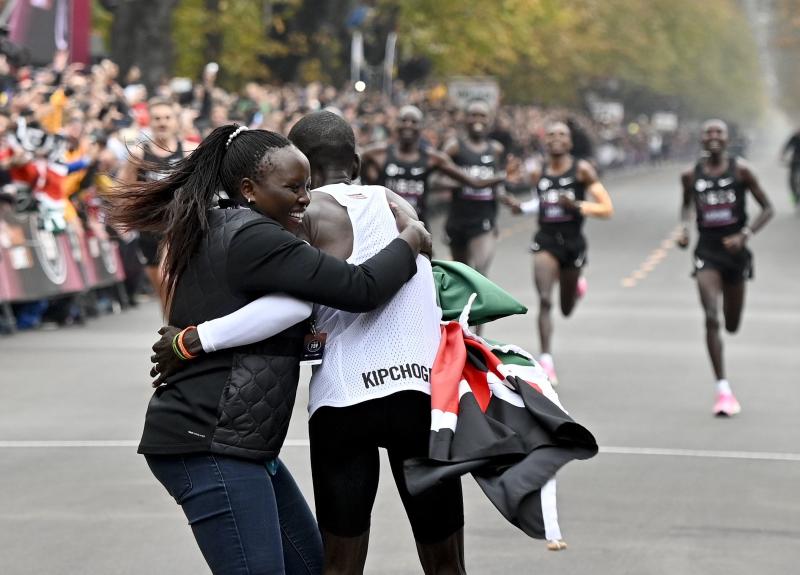 Kenya's most-daring son Eliud Kipchoge has cemented his name in the history books, completing a 42-kilometre marathon in 1:59:40 at the INEOS 1:59 Challenge on Saturday, October 12 in Vienna, Austria.
Kipchoge's historic INEOS feat, however, won't be recognised as an official World Record!
According to the International Association of Athletics Federation (IAAF), for a race to meet athletics' competition rules, and therefore be eligible to become a World Record, certain criteria must be met.
A race must be:
1. Be sanctioned by the IAAF or by the Athletics Federation of the host country.
2. Pacemakers cannot rotate in and out of a race.
3. There must be anti-doping controls.
4. Refreshments must be taken from official stations and not brought to an athlete.
5. There must be at least three competitors.
6. An athlete cannot be paced by a vehicle with a motor.
7. The course must be measured and certified by an official.
During Kipchoge's first attempt in Monza, Italy two years ago, refreshments were brought to him and pacers swapped in and out, breaching IAAF's rules.
On Saturday, refreshments in the form of eight pre-prepared drinks, energy and caffeine gels were handed to Kipchoge every 3.1 miles (5km), breaching one of the rules.
The 34-year-old already holds the men's world record for the distance with a time of 2hr 01min 39sec, which he set in the flat Berlin marathon on September 16, 2018.
According to AFP, the course had been prepared so that it should take Kipchoge just about 4.5 seconds more than on a computer-simulated completely flat and straight path, according to an analysis by sports experts at Vienna University.
In total, he only had to descend 26 metres in altitude and climb 12 metres, the experts said.
The world marathon record has, for the past 16 years, been contested uniquely between athletes from Kenya and Ethiopia.
The two nations are also fierce rivals for distance medals on the track.
Kipchoge's record was almost beaten last month in the Berlin marathon by Ethiopia's Kenenisa Bekele, who ran 2:01.41, just two seconds short of the official world mark.
NB: The race in Vienna, Austria was not a competition but was meant to inspire millions of people in the world. Kipchoge has done it.
During Thursday's press conference, Kipchoge noted that the Vienna race was meant to challenge human beings in their day-to-day endeavours. He also hit out at his critics.
"I'm running to make history, to sell #NoHumanIsLimited and inspire over 3 billion people. It's not about money but changing the lives of people.
"The law of nature cannot allow all human beings to think in one direction. I'm doing this just to inspire everybody and to send the message that no one is limited. I respect everyone's' thoughts," stressed Kipchoge.
Viva Eliud Kipchoge!
#NoHumanIsLimited
#KipchogeINEOSChallenge