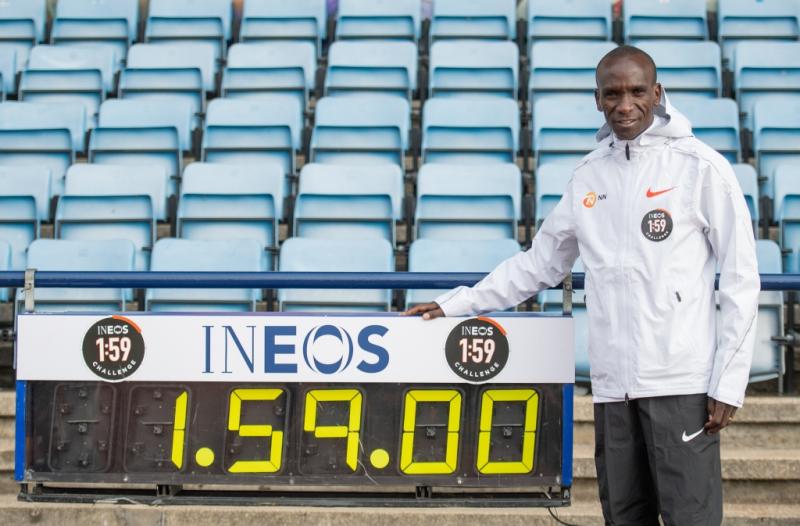 Eliud Kipchoge team and INEOS have set Saturday 12th October as the date for the INEOS 1:59 Challenge.
SEE ALSO: Learn to cope with virus, Kipchoge says
The World marathon record holder Eliud Kipchoge, who was flown out of the country on Monday, October 7 in a chartered plane to Austria, will attempt to break the two-hour marathon barrier to beat his record set at last year's Berlin Marathon.
"Decision has been made for the INEOS 1:59 Challenge to take place this Saturday 12th October in Vienna, "read part of INEOS statement.
SEE ALSO: Jepkosgei hopes to excel in marathon despite race cancellations
Now that the date is set, it is down to the INEOS 1:59 meteorology and performance experts to provide weather data to Kipchoge's coaching team and collectively make the decision as to what time- that will be set on Friday for the race, to give Kipchoge the best possible chance of success.
"Conditions on the course are looking optimal for race day Final start time will be confirmed on the afternoon of Friday 11th October," added the statement.
SEE ALSO: Kipchoge adopts 50 hectares in Kaptagat forest
Robby Ketchell, who is leading the weather analysis for the INEOS 1:59 Challenge Performance Team, said the start time will be defined by Kipchoge's adaption to the Austrian atmosphere and time and will be between 6am and 10am local time.
"We have looked at the weather patterns for Vienna coming through and the current conditions are looking to be optimal for temperature, humidity, wind and precipitation for this Saturday morning, 'he said.
"We are currently looking at less than 2 m/s wind speed on the start location on the bridge and a temperature of between 5-9 degrees Celcius from 5AM-8AM on Saturday. After 8AM the temperature is looking like it will rise slightly, and humidity will drop slightly.
"For the Challenge we need a 24-hour window of no rain to keep all the surfaces dry and that is currently looking to be the case for Saturday too.
"Weather analysis, as one part of the Challenge we cannot control, has been the subject of much hard work from the team over the past few months and with the best knowledge we have right now Saturday 12th October is looking to be the best conditions we could have hoped for," Ketchell added.
One of the reasons Vienna was picked for the venue was its favourable weather conditions in October.
The location
Vienna offers many advantages as a venue for the attempt, including the fact that it's only an hour behind Kipchoge's home time zone.
This means his sleeping and eating patterns won't be disrupted and he can remain in Kenya, reaping the benefits of being at 2,400m altitude, before heading to the O2-rich air of Vienna, at 165m, the day before his attempt.
The course
After a showpiece start on Vienna's Reichsbrücke bridge, Kipchoge will run 1.2km to The Prater, a park known as the 'green lung of Vienna', and begin four laps of the Hauptallee, the historic avenue that runs through it.
Each lap will consist of two 4.3km straight stretches, with turning points coming at the Lusthaus and Praterstern roundabouts at either end of the avenue.
That makes it roughly 90 per cent straight – far straighter than the Monza circuit, or any road-marathon route – and Kipchoge believes this will make a difference. It's also pancake flat, with just a 2.6m height difference and 0.06 per cent gradient change on the route.
The weather
Another major plus of Vienna is its weather – cool and sunny in October, with an average temperature of 10C (min 6.4C, max 14.3), low humidity and only six days of rain.
This was an area identified for improvement after Monza, when a shower spiked humidity. Higher humidity makes it harder for sweat to evaporate, which means the athlete feels hotter.
Also, a wet surface means energy-sapping slipping. Vienna's weather history and the eight-day window should ensure better conditions than Kipchoge had at Monza.
Kipchoge's shoe upgrade
The Vaporfly 4% shoes (engineered to make athletes four per cent faster) worn by Kipchoge at Monza, and developed by Nike for the Breaking2 project, set a new performance benchmark.
The carbon fibre plates have proven even more effective at propelling athletes forward than they were in propelling themselves into controversy, but Nike has pressed on and the ZoomX Vaporfly Next%, which Kipchoge will wear in Vienna, are a major evolution.
The carbon plate is still there, but a 15g drop in the weight of the upper means 15% more midsole has been added with no overall weight gain.
The Vaporweave upper also offers a 75% reduction in moisture retention, according to Nike, reducing incremental weight increase from moisture.